The Dodge City girls golf team concluded their season on Monday at Terradyne Country Club at the 6A state championship tournament. The Red Demons finished in a tie for 10th place with Shawnee Mission Northwest.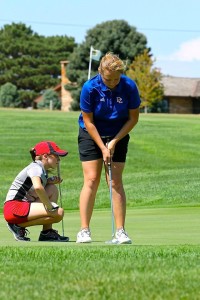 Seniors Logan Gleason and Katie Rostetter tied for 49th after both girls shot a 106 on Monday. The two seniors set the tempo for the team the entire season with their senior leadership. It was no different in their final high school tournament.
"Nearly every player in this tournament had holes where they had some big numbers because of the conditions and so did Logan and Katie but they bounced backed from those holes," head coach Jim Mapel said. "They put it behind them and played the next hole the best they could and I thought that was a good example of their senior leadership."
Emily Stephenson finished just behind the two seniors with a score of 107, Makena Konrade shot a 112 and Ali Phelps rounded out the squad with a 147.