Demons take 5th at Mariah Hills
Gleason paces Dodge City with 4th place individual finish
By John Zetmeir
Dodge City Daily Globe
The Dodge City High School golf team took advantage of its familiarity with Mariah Hills Golf Course on Thursday when the Red Demons hosted the Dodge City Invitational.
Dodge City took fifth place out of the 10 team field with a team score of 327. Dodge City head coach Jim Mapel thought it was his team's best performance of the year so far. All six of the Red Demon golfers shot their best scores of the season.
"I think it says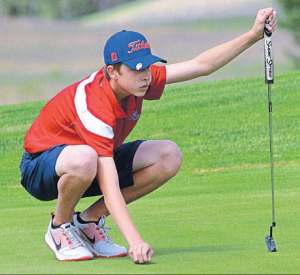 something about them on their home course because it's not easy when everyone is out there following you and you want to do well, you almost want to do too well," Mapel said. "We took a good step forward today." Luke Gleason led Dodge City on the day. His score of 77 earned him a fourth place individual finish. It was his second individual medal that he has brought home this season.
"It feels pretty good," Gleason said. "It's a good stepping stone for the rest of the season and hopefully I can stay consistent with that score."
Gleason's performance on the back-nine highlighted his day. The sophomore pared the first two holes on the back-nine before birdieing the 12th hole.
"I'm really proud of him," Mapel said. "He's really had a good year. He had a rough day at Hays on Monday but when he was playing today he was determined. If he hit a bad shot or had a hole that wasn't so good, he bounced back."
The Red Demons will try to carry the momentum from Thursday's performance when they travel to Topeka on Monday. Dodge City will also travel to Hutchinson next Friday.
Other scores
Dylan Ratts 83, Matthew Vogel 83, Canton Owens 84, Adam Kessen 84, Payson Hatfield 89.