Demons win 10th straight
BOYS SOCCER
The Dodge City boys escaped Garden City with a 2-1 win on Thursday evening. After junior Mario Martinez gave Dodge City a 1-0 lead midway through the first half, Garden City tied the game with a goal from Jose Herrera.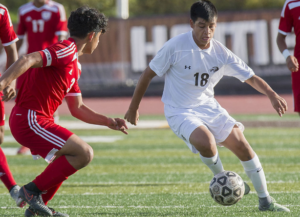 Junior Francisco Cayetano's goal in the second half turned out to be the winner for Dodge City. Cayetano has scored three goals this week for the Red Demons.
Dodge City (10-0, 5-0) will play their third game this week when they host Wichita Heights on Saturday at 2:30 p.m. at Memorial Stadium.
GIRLS GOLF
The Dodge City High School girls golf team had a busy week in which they traveled to Wichita on Wednesday and Hutchinson on Thursday.
The Red Demons took fifth out of 12 teams on Wednesday with Taylor Starnes leading the way with her score of 97 which earned her a 17th place medal. Chesney Moore was not far behind her with a 99 while Emily Stephenson shot a 101.
In Hutchinson, Stephenson led the way with a 94 while Moore and Starnes tied with scores of 99. Dodge City finished 11th out of 14 teams. The Red Demons will travel to Great Bend on Tuesday for the Western Athletic Conference championships.
Other scores
Wichita – Makena Konrade 103, Ali Phelps 110, Alexis Ontiberos 114.
Hutch – Makena Konrade 103, Ali Phelps 109, Alexis Ontiberos 109.
GIRLS TENNIS
For the seventh time this season, Dodge City head girls tennis coach David Snodgrass had to use a different lineup for a tournament.
However, the Red Demons continued to show their depth as they placed second in Hutchinson on Thursday afternoon Junior Leah Stein took second place while senior Daniela Villarreal earned a third place finish in the singles bracket. Instead of singles being split into No. 1 and No. 2 brackets, Stein and Villarreal were part of a mixed singles pool.
Hannah Sowers and Abigail Argumedo took third place in No. 1 doubles while Kameron Lowery and Marissa Wissar also took third place in No. 2 doubles.
The Red Demons will try to defend last year's Western Athletic Conference championship when they travel to Liberal on Monday.