Demons return to mats, host La Junta
By: John Zetmeir
Dodge City High School head wrestling coach Lars Lueders breaks every season up into parts.
The early part of the season, which the Red Demons call the "preseason," is about creating a positive atmosphere and building a team bond. As the next phase takes place, the Dodge City wrestlers work mostly on technique and improvement.
As the regional and state tournaments approach, the Red Demons transition from the technical phase of wrestling and shift their focus on aggressiveness and mental toughness.
Last week's dual in G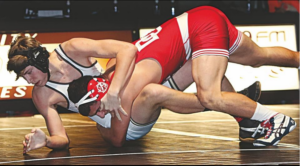 arden City took place in the middle of a transition period for the Red Demons. It was a dual that was originally scheduled for early January but was postponed twice do to weather.
Dodge City fell to their Western Athletic Conference rivals 57-10.
"It showed our kids that they need to be more aggressive and that they needed to be tougher," Lueders said about the loss at Garden City. "So I think that has really helped us transition into the next phase."
The Red Demons lost five matches by decision by 14 combined points, three of which were decided by two points or less against Garden City, the four-time defending 6A champions.
When Dodge City hosts La Junta, Colorado for a dual on Thursday evening, Lueders wants to see the Red Demons finish matches better than they did a week ago.
"At Garden a lot of matches were close matches that we ended up losing at the end or getting pinned," Lueders said. "If they can come out aggressive, come out hard and wrestle a full match while still doing the same things they were doing at Newton, I think that will be a great step in a positive direction."
The weekend before the dual in Garden City, the Red Demons took third place at the Newton Tournament of Champions.
Following Thursday's dual, the Red Demons will travel back over to Garden City for the Rocky Welton Invitational where they are one of 15 ranked teams in the field. Dodge City took sixth last season.