Win or Go Home
Demons host Campus in first round of sub-state
By John Zetmeir
Dodge City Daily Globe
Last season, the Dodge City High School girls basketball team went a perfect 8-0 in Western Athletic Conference play but fell short of making it to the 6A state tournament.
The Red Demons (15-5, 8-0) locked up a second straight undefeated WAC season last Thursday.
They will try to take th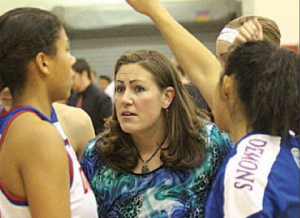 e next step in reaching the state tournament when they host Haysville-Campus on Wednesday night to begin sub-state play.
While Campus (2-18) comes to Dodge City with just two wins on their record, Dodge City head coach Kelley Snodgrass hopes her team does not overlook the Colts, particularly at this time of the year.
"They play a lot of tough competition in the (Wichita) City League," Snodgrass said. "We'll have to play to our best ability. They have a big presence inside and they have a point guard that can shoot and handle the ball as well. We have to take it one game at a time. In March, anything can happen. I think the girls are ready."
The Red Demons are an experienced group. All five of Dodge City's starters are upperclassmen, which includes four seniors. Because of their understanding of what postseason play means, Snodgrass is confident that her team knows how to handle the situation.
"They are a very motivated group," Snodgrass said. "Obviously we have to do what has gotten us this far, which has been our defense. With the veteran group and the senior leadership, I think they have their goals in sight and they are working hard to accomplish them."
Dodge City won their final seven games of the regular season to earn the second seed in their sub-state bracket behind Wichita South. Last season, the Red Demons ran into the Titans in the sub-state finals.
This year, Dodge City would not meet with Wichita South until the state playoffs. The Titans are the two-time defending state champions and finished the regular season with a 20-0 record.
"The last two years we've had one home court game and then had to go on the road," Snodgrass said. "That was a goal for this group to get two home playoff games."
Tipoff is scheduled for 6 p.m. at Dodge City High School on Wednesday.