Red Demons fall to 2-1 on the season
By John Zetmeir
Whenever it looked like the Dodge City High School football team's defense was going to get off of the field, the Wichita Heights' offense found a way to keep the drive alive.
Heights had four scoring drives of 10 plays or more which included 80-yard, 85-yard and 90-yard drives in their 34-14 win over the Red Demons on Friday night.
'We just lacked discipline defensively,' Dodge City head coach Dave Foster said. 'The keys are easy but it requires kids that will do as they are asked every single snap.'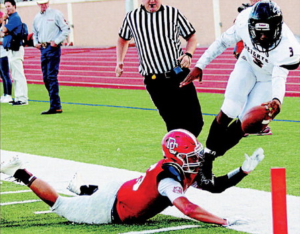 Heights jumped out to a 14-0 lead before the Red Demons got on the scoreboard by capitalizing off of a Falcon turnover. Senior Kenedy Escobedo recovered a fumble on Heights 1-yard line to set up junior quarterback Dawson Williams' eighth touchdown run of the season.
Less than a minute into the fourth quarter, Dodge City appeared to have life once again when Williams connected with senior running back Tylor Garcia for a 47-yard touchdown pass to cut Heights' lead to 21-14.
After the Red Demon touchdown, Heights milked nearly seven minutes off of the play clock as they drove the ball 90 yards on 12 plays for their fourth touchdown of the game.
'I was proud of the kids' effort, we just have to understand that we can't go out and just play,' Foster said. '(Heights) is a good football team and we had an opportunity to win the game but not when we make mistakes as we did.' Heights finished with over 400 yards of total offense while their defense held the Red Demons to just under 200 yards of total offense. Sophomore quarterback K'Vante' Baker and junior running back Dejuan Scott both scored a pair of touchdowns for Heights.
Dodge City (2-1) will head to Great Bend next Friday for their first road game of the season. Next Friday's game will also be both teams Western Athletic Conference opener.
W. HEIGHTS – 7 7 7 13 – 34
DODGE CITY – 0 0 7 7 – 14
1Q, Heights, Scott 1 run. Kick good. 7-0
2Q Heights, Baker 12 run. Kick good. 14-0
3Q Dodge, Williams 1 run. Kick good. 14-7 Heights, Baker 24 run. Kick good. 21-7
4Q Dodge, Williams 47 pass to Garcia. Kick good. 21-14 Heights, Scott 4 run. Kick good. 28-14 Heights, Russell 50 pass to Hines. Kick fail 34-14