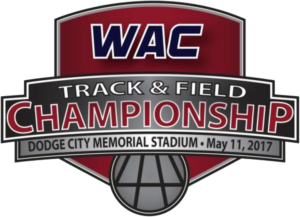 Dodge City High School will host the 2017 WAC Track & Field Championships at the Memorial Stadium Track Complex. This year's meet will be the 32nd year for the event. The Memorial Stadium complex includes an 8- lane synthetic surface and 2,500 seats on each side of the facility for teams and spectators. The finish line is located on the NE section of the track. Concessions will be located on the EAST side of the Stadium.
In 2016, the Garden City High School Lady Buffaloes won the girl's title for the sixth time in school history, and for the fifth time in a row. Great Bend has collected six titles, Garden City has six titles, Hays has four titles, and Dodge City has two titles.
On the boy's side, the title was won by Garden City for the first time in school history. Dodge City has won four titles – including the inaugural meet championship, Great Bend has collected one title, Hays has won eight titles, and Liberal has won 17 titles.
Liberal still holds the record for most championships (13 – Girls / 11 straight); (17 – Boys / 16 straight).
---
DODGE CITY – MEMORIAL STADIUM THURSDAY, MAY 11, 2017
FIELD EVENTS – 4P RUNNING EVENTS – 6P
American Implement Champions Cup Presentation – conclusion of meet (if decided)
Follow live: @RedDemonSports (twitter)
Click Here Live Results
---
Order of Events
| | | | | |
| --- | --- | --- | --- | --- |
| Field Events | 4:00 p.m. | Girls Pole Vault | then | Boys Pole Vault |
| | | Girls LJ (W Pit) | then | Boys LJ |
| | | Boys Discus (Blue Fld) | then | Girls Discus |
| | | Boys TJ (E Pit) | then | Girls TJ |
| | | Girls Javelin (Red Fld) | then | Boys Javelin |
| | | Girls High Jump (E Pit) | then | Boys High Jump |
| | 6:00 p.m. | Girls Shot (N Ring) | then | Boys Shot (S Ring) |
| Running Events | 6:00 p.m. | All Timed Finals | | |
| | | |
| --- | --- | --- |
| Meet Scoring (Five Teams) | Individual: 8-6-4-2-1 | Relays: 8-6-4-2 |
| | |
| --- | --- |
| Awards | Medals will presented on awards stand (50 yd line) at the conclusion of each event/race. |