Ice water dripped off of Saul Hernandez's tie as he stood in front of his team. Despite the celebratory laughter, the high fives and the excitement in the air, he told his players that the season was not over and that there could be more celebrations to come. But for the moment, the Dodge City boys soccer team would enjoy this one.
After their 6-2 win over Great Bend to clinch the outright Western Athletic Conference title, the Red Demon players dumped the rest of the water cooler all over the first year head coach.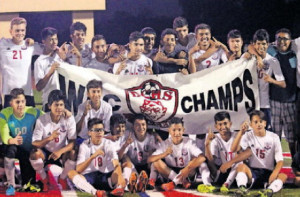 The last time the Dodge City boys soccer team won a WAC title outright was when Hernandez himself was a player 15 years ago.
"It's a great feeling," Hernandez said. "(Returning to Dodge City) was always a dream of mine and it finally happened. I don't know if I was expecting this in my first year. I was just hoping the boys would understand my philosophy and my way of doing things."
Dodge City (12-1, 7-0) has been dominant in WAC play all season. It only made sense that the Red Demons put forth another strong performance to clinch the outright title.
The Red Demons jumped out to a 4-0 lead before allowing two Panthers goals.
Sophomore Joshua Don Juan scored his third and fourth goals of the match to put Dodge city ahead after Great Bend started to find a rhythm.
"We took our foot off of the pedal but I'm glad that we got a tough team like (Great Bend)," Hernandez said. "They have improved tremendously."