For more than 20 years, basketball teams and cheerleaders have been visiting elementary and middle schools in Dodge City to read to young students as a part of the Tournament of Champions.
"Martha Pfannenstiel started the reading program withLinnElementary and then expanded it to other schools and teams," organizer Geri Heinz said. "I think it's important for the high school and elementary students. The younger kids enjoy people coming to read to them, especially ball players. The older kids can take away a sense of pride that they were able to represent their school."
The Dodge City basketball team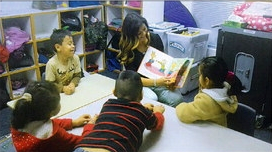 read picture books to kindergarten, first and second graders at Central Elementary on Thursday.
Linn Elementary librarian Marlene Littrell said the elementary students always enjoy the experience.
"A lot of them don't get read to enough," she said. "I'm a big believer in that."
On Friday, the Hutchinson Cheer Squad is scheduled to read at Bright Beginnings, Leavenworth basketball team and cheerleaders at Linn Elementary, Wichita Heights basketball team at Miller Elementary, Wichita East basketball team and cheerleaders at Sunnyside Elementary, Wichita Heights Cheer Squad at Beeson Elementary, Hays basketball team at Northwest Elementary and Hutchinson basketball team at Soule Elementary.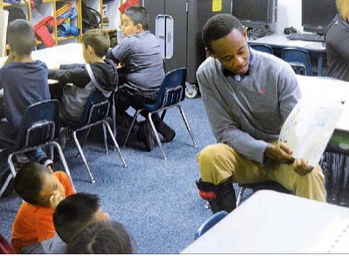 The Dodge City Cheer Squad read at Ross Elementary on Thursday.
Last year, cheerleader Amber Laskowsky said she loved seeing the elementary students' reactions while she reads.
"I think it's very nice to have role models come to the elementary school to let the kids see examples of students in high school," she said. "It's also a great way to get involved in the community."
By Gloria Tucker, Dodge City Daily Globe