Dodge City High School students will perform The Sound of Music on Thursday, Friday and Saturday at 7pm in the school auditorium.
By: Emily Garcia
Dodge City High School invites the community to come enjoy their production, The Sound of Music, on Thursday, Friday and Saturday at 7pm in the auditorium.
The Sound of Music is a classic musical written by Richard Rodgers and Oscar Hammerstein II that was first featured on broadway in 1959. The musical was later adapted as a film in 1965, starring well-known actors Julie Andrews and Christopher Plummer. The musical is known for many songs such as 'My Favorite Things,' 'Do-Re-Mi' and 'Edelweiss.'
"It's a classic, I think i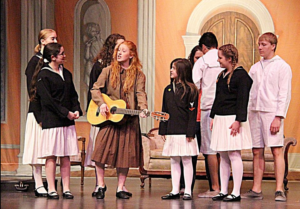 t's important to do a mainstream musical because that's what the community expects," said director Kelly Knedler. "For a high school, Dodge City isn't the place to put on an experimental musical, to do something classic here is what we need to do."
Knedler stated that The Sound of Music is featured at this year's musical for numerous reasons.
"The Sound of Music hasn't been done for at least 25 years in Dodge City," said Knedler. "As far as I can recall, it hasn't been done since the early 70s, so it's time to bring that one here. There's also a national tour of it happening right now, so we're kind of going with that theme too."
Knedler also mentioned that his mother was a contributing factor to this decision.
"It's my mothers favorite musical," Knedler said. "She has bugged me since I started directing musicals 20 years ago to do this show, and I figured 'ah, I'll finally do it.'"
The musical is set in 1938 Austria. It tells the story of Maria, who takes over as a governess to a family of seven children and their widowed father, Captain von Trapp, while she decides whether to become a nun. Maria eventually falls in love with the children and the Captain, then shortly after they all end up fleeing the country due the unfortunate events in World War II. Senior Chloe Fischer, who portrays Maria, said that the most challenging aspect of her role is acting in love.
"I love to act angry or sad or other big emotions on stage," said Fischer. "Acting in love is tough because I've never been in a relationship before, so that's something that is hard for me to portray because I've never felt it before."
Many students playing lead roles expressed their excitement at the opportunity to perform the many classic songs featured in this musical.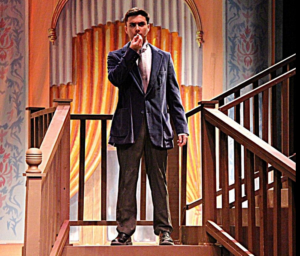 "Singing the songs is most exciting," Fischer said. "I grew up watching The Sound of Music and loving the show as a musical. Getting to sing those awesome songs like 'My Favorite Things' and 'The Lonely Goatheard,' like now I know all the words, and that's exciting for me."
Senior Jay Ragland, who portrays the Captain, said that he is most excited to perform 'Edelweiss.'
"It's a really fun role, and one of my favorite musical theater songs ever is 'Edelweiss' that the captain gets to sing," said Ragland. "I get to sing that, and I also get to play it on the guitar, which I love doing so it'll be pretty fun to be able to do that."
Ragland stated that the most challenging aspect of his role is the change of heart that the Captain experiences.