Day 1
All eight Demons advance
Garcia, Fisher to battle for state titles
By: John Zetmeir
All eight of the Dodge City High School wrestlers that qualified for the 6A state tournament are still in the position to leave Wichita with a medal after the first day of competition.
Every Red Demon wrestler collected at least one win on Friday as the team accumulated 66 points which puts them in a tie for sixth place. Dodge City had five wrestlers advance to the quarterfinals,three advance to the semifinals and two make it to the state championship match.
"Overall you're going to win some and lose some," Dodge City head coach Lars Lueders said. "There was five matches that I thought we should've won. It was mental mistakes on our part where we lost.We will hopefully get those corrected and bounce back strong. The effort was there, it was just some mistakes along the way that tripped up some of our guys. Everybody got through to the second day so that's important."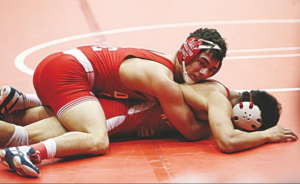 Highlighting the day for Dodge City was senior Tylor Garcia and sophomore Marcos Fisher, who each earned spots in the state championship match in their respective weight classes. Garcia earned a chance to wrestle for a 145-pound state title by defeating Garden City's Curtis Near in the quarterfinals before edging out Wyandotte's Javier Contreras in the semifinals with a 5-1 decision.
In order to end his high school wrestling career with a state championship, Garcia will have to defeat Manhattan's Mason Wallace in the fourth meeting between the two wrestlers this season. Wallace is 3-0 against Garcia this season in three close matches, two of which were decided by two points.
Fisher advanced to Saturday's final match in the 220-pound division by pinning Blue Valley Northwest junior Josh Cruz in the semifinals. The sophomore began the day with a 15-10 decision win that was followed with a 10-5 win over Wyandotte's Alex Pena in the quarterfinals.
Like Garcia, Fisher will face a familiar foe in the championship round. The 220-pound championship will be a rematch of last week's regional championship in Hutchinson between Fisher and Wichita South's Kasdon Arehart. Arehart won the first meeting with a 7-4 decision.
The (state) finals is a whole new ballgame,"Lueders said. "We've been in the other position where we had a kid beat someone in the regional finals and then lostin the state finals. It's one final match and you go out and give it everything you have."

In the quarterfinal round, sophomore Couy Weil was edged out in a 1-0 decision while junior Ansony Quezada was pinned with 36 seconds left in the match.
Senior Dylan Servis fell to Garden City's Jesse Nunez by a 7-2 decision in the semifinal round.
Dodge City's Kenedy Escobedo, Devon Griego and Evan Darville bounced back from first round losses to pick up wins in the consolation bracket.
Day 2
Six of the eight members of the Dodge City High School wrestling team left the 6A state tournament in Wichita with a medal this weekend as the Red Demons finished sixth out of 31 teams with a team score of 103.
All eight Dodge City wrestlers won at least one match over the weekend.
"I was really pleased," Dodge City head coach Lars Lueders said. " I thought our kids wrestled their tails off, they put everything into the tournament and placing six out of eight (wrestlers) is pretty awesome. There are some guys who really came back in matches, some guys showed a lot of heart to place and some guys might not have placed as high as we wanted to but that's part of the tournament."
Senior Tylor Garcia and sophomore Marcos Fisher were the Red Demons top two finishers as both were the state runner-up in their respective weight class. Garcia fell to Manhattan's Mason Wallace in a 6-5 decision. Garcia ended his Dodge City wrestling career as a three-time state place winner which include a pair of runner-up finishes.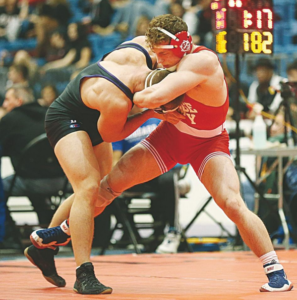 Dylan Servis also wrapped up his time as a Red Demon by bouncing back from a semifinal loss by pinning his opponent in the consolation final to take third place. Fellow seniors Devon Griego and Kenedy Escobedo earned their first trip to the state tournament this season.
"Those guys mean so much to me and so much to the program," Lueders said about the seniors. "They were great leaders, great teammates, they really felt like they were part of the family and got the family going. The way they modeled how to do things was perfect. I just can't put into words what they mean for the program."
After seeing limited varsity time as a freshman, sophomore Marcos Fisher took second place in the 220-pound bracket over the weekend.
"It's pretty amazing when you look at it," Lueders said. "There was a ton of comments from teams like 'holy smokes, this kid has only been wrestling a few years.' He's improved so much and a lot of it falls back on him being a great kid."
While the Red Demons did not have the lineup that Lueders envisioned that they would coming into the season, he believes this season will help the team going forward into next year.
"The kids did a really good job of buying into our family and character aspects," Lueders said. "That really got our program back on track. Last year we had a lot of issues being good teammates and caring about the team. So they really got that back on track and that's extremely important."
RESULTS
113 – Couy Weil (35-9) placed 5th and scored 12.00 team points
120 – Kenedy Escobedo (28-16) placed 6th and scored 12.00 team points
126 – Devon Griego (2018) place is unknown and scored 1.00 team points
145 – Tylor Garcia (39-6) placed 2nd and scored 20.00 team points
182 – Dylan Servis (39-9) placed 3rd and scored 22.00 team points
195 – Ansony Quezada (35-11) placed 5th and scored 13.00 team points
220 – Marcos Fisher (29-9) placed 2nd and scored 20.00 team points
285 – Evan Darville (11-11) place is unknown and scored 3.00 team points
6A TOP 10 TEAM SCORES
1. Manhattan 170 2. Haysville-Campus 148.5 3. Garden City 147.5 4. Olathe North 142.5 5. Derby 130 6. Dodge City 103 7. Topeka Washburn Rural 88 8. Wichita South 87.5 9. Olathe South 69 9. Wichita Northwest 69