By John Zetmeir / Dodge City Daily Globe
When Lars Lueders took over as the Dodge City High School wrestling coach, the senior Red Demon wrestlers were just entering middle school.Lueders began to shape the student into the type of wrestlers that could turn the Red Demon wrestling program into one of the most formidable in the state.
On Thursday night, the group of seniors has a chance to celebrate senior night by winning the program's first-ever Western Athletic Conference championship when they host Liberal for their final regular season dual.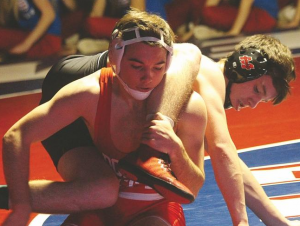 Last season, the Red Demons took third place at the 6A state tournament.
"It means that all of our hard work over the last seven or eight years has come to fruition," Lueders said. "It's not just us at the high school involved. It's a community effort from the little kids, to the middle school to the high school. It's definitely been a process and it's good to see that we're finally in this position.
"There have been a number of talented wrestlers that have come through the program during Lueders' previous seven seasons at the helm. However, an argument could be made that the current senior class has been the foundation for what is now the No. 2-ranked team in class 6A.
"That first step was finding the three or four guys as the sixth and seventh graders that were going to be the leaders and push everyone," senior Clay Weil said. "I think a lot of us knew that it was a work in progress. There was never really any disappointment whenever we were younger and not doing so hot as a team just because we knew once we got to (senior year), this was the end goal."Lueders believes his team is prepared for the moment and know what they have to do to be beat Liberal.
Since losing to Great Bend back in December, the Red Demons have not lost a dual. That includes wins over the No. 1 ranked team in 6A, Garden City, and Colby, the No.1 ranked team in 4A.In hindsight, the Red Demons believe that the loss to the Panthers was exactly what the team needed."It gave us that kick in the butt to get us working," senior Howard Johnson said about the loss to Great Bend. "It showed us what we needed to do.
"Weil and Johnson highlight the senior class for Dodge City. Weil is currently the top-ranked wrestler at 132-pounds in 6A. Johnson ranks second in 6A at 145.Senior Zerek Rodriguez, is the No. 3 ranked wrestler at 220. Rounding out the senior class is one of the team captains, Cole Trent, and Osbaldo Mendez.
The dual is scheduled to begin at 6 p.m. at Dodge City High School on Thursday.