Lady Demons seek WAC title
John Zetmeir
Dodge City Daily Globe
One game sits between the Dodge City High School girls soccer team and a Western Athletic Conference title.
The Red Demons (10-4-1, 6-1) will travel to Liberal in hopes of attaining a conference championship, which was the goal that sat at the top of the list for head coach Saul Hernandez's team going into his first season at the helm.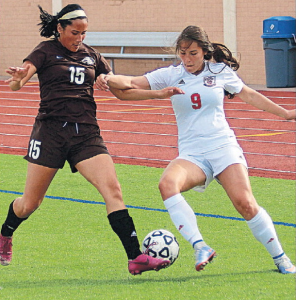 Dodge City has played 14 games since its first meeting with Liberal this season. The two teams met in the season opener back in late March. The Red Demons cruised to a 4-1 victory after scoring three first half goals.
"We're not going to take (Liberal) lightly," Hernandez said. "We're going to take this as serious as any other game."
A front loaded WAC schedule put the Red Demons in a position where, to capture a conference title, they would have to win road games to finish off their season. After suffering their first conference loss to Hays last Thursday, Hernandez was happy with how his team responded in their 1-0 win at Garden City earlier this week.
"We've had to stay strong mentally," Hernandez said. "I think the girls did a wonderful job bouncing back after that loss at Hays going to Garden City where it's always tough to win. They stuck through it and they came out with a great attitude."
Defense has been the key to the Red Demons climb to the top of the WAC standings. In their seven conference games this season they have conceded just six goals, three of which came in last Thursday's loss to Hays.
"After the first few practices I knew that we were going to have a solid defense," Hernandez said. "The tough part was going to be to get them to mesh together to play as a team.
That has been the biggest challenge but the girls have persevered. Now they are playing like a team. Now there is a togetherness that wasn't there at the beginning of the season."
Going into their final game of the regular season, the Red Demons are slated to host one game in regional play. With a win, Dodge City could put themselves in position to host two games in regional play if they were to advance.
Thursday's game is scheduled for 5:30 p.m. in Liberal.