Six Demons qualify for state
DCHS finishes 5th in tough regional tournament
By John Zetmeir
Dodge City Daily Globe
The Dodge City High School wrestling team knew that they faced arguably the toughest regional assignment going into last Saturday's tournament. While there were a lot of positives for the Red Demons, they ultimately came up a little short of their team goal.
Dodge City fi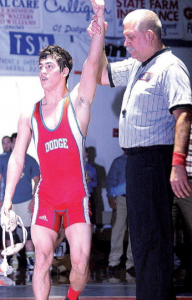 nished in fifth place overall and had six wrestlers qualify for the 6A state tournament.
"Our goal was nine," Dodge City head coach Lars Lueders said. "We knew that if we got nine we could win a state title. We're bringing six but we're confident that those six can place pretty high and we can finish very high as a team."
Highlighting the day for Dodge City was the three Red Demons who took home individual regional titles. Freshman Joel Ostrom finished first in the 106-pound bracket, junior Tylor Garcia took the crown at 138 and senior Howard Johnson ended Dodge City's day with a win in the 145 final.
To win the 138 regional, Garcia had to go through Garden City's Michael Prieto, a three-time state champion. When the two met earlier this season, Prieto won a 16-0 decision. In the rematch, Garcia held off the No. 1 ranked wrestler in the state to earn the 4-3 win.
"This time I was more focused and I wasn't trying to wrestle (Prieto's) ranking, I was wrestling the wrestler," Garcia said. "The coaches and (senior) Clay Weil have been teaching me not to be scared that he's ranked No. 1 and just wrestle how I wrestle and things will go well."
After beating Wichita South's Chris Bell in the regional semifinal, Johnson was overcome with emotion knowing that he had just earned his first trip to state. The Dodge City senior ended his day by beating Garden City's Curtis Near with a 5-2 decision to take the regional crown.

"He worked his butt off to get to this point," Lueders said. "He's never qualified for the state tournament yet he's a kid that has really been doing as much work as a lot of those kids that are ranked high in the state and are successful on the national scene."
Ostrom kicked off the championship round with a 7-5 decision over Hutchinson's Brian Gates, who was the top-ranked wrestler in the bracket. The 106pound freshman heads to the 6A state tournament boasting a 36-9 record.
Senior Clay Weil was the fourth Red Demon to compete in the championship round. The three-time state place-winner took second on Saturday after getting caught by Derby's Triston Wills in his final match of the day. Wills sits just behind Weil in the 6A 132-pound rankings.
Rounding out the state qualifiers for Dodge City were junior Devon Plaza and senior Cole Trent.
After having a first round bye, Plaza fell to Derby's Branden Becker in the semifinal round before bouncing back to win his final two matches of the day. Plaza beat Wichita West's Kevin Robinson in the consolation finals to finish in third place.
Even though the Red Demons did not qualify as many wrestlers as they wanted to, Lueders believes that the rigorous regional test will translate into good fortune this upcoming weekend when Dodge City heads to Wichita for the state tournament.
"It really sets us up for state for the guys who are going because the other regionals aren't even close to this one, and they know it," Lueders said. "I think if we use that to our advantage at the state tournament, I think we're going to be really successful."