Signing Day
Nine Red Demons pen with colleges
By John Zetmeir
Dodge City Daily Globe
Dodge City High School had nine student-athletes sign national letters of intent on Wednesday to continue their academic and athletic careers. Five of the nine Red Demons penned with four-year universities.
Highlighting the group was Jessica Harshberger who will have the opportunity to play NCAA Division I basketball at Southeast Missouri State University. Harshberger was named Western Athletic Conference Player of the Year as a junior and senior as she led Dodge City to two straight WAC titles.
Three of Harshberger's former teammates will also be playing basketball at the college level. Brianna Bradshaw signed with Hutchinson Community College, last season's Jayhawk Conference champions. Baily Shelor, along with Taylor Nichols, will remain in Dodge City and attend Dodge City Community College.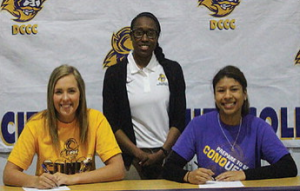 Earlier this month, Dodge City hired Zach Loll as its new women's head basketball coach. While Shelor and Nichols were heavily recruited by former head coach Mark James, returning assistant coach Sta'Nisha Garlington emphasized the importance of the two local signees.
"It was crucial for us to make sure with a new coach that they still felt like they were still signing with the same program," Garlington said. "I'm still here,our returners are still here and we still wanted them here."
Four members of the Dodge City track and field team signed with four year schools. Tyler Trent, who placed sixth in the boys long jump at the 6A state tournament last season, signed with Fort Hays State University.
Brekk Flax signed with the University of Nebraska-Omaha. Flax has two first place finishes in the girls 100 meter and 200 meter dash in both of the Red Demons' track and field meets so far this season.
Jasmine Duarte and Mariela Aldaba will also continue running in college. Last fall, the pair of seniors helped Dodge City's cross country team to a seventh place finish at the 6A state cross country meet. Duarte signed with Washburn University in Topeka while Aldaba will attend Newman University.
During his senior season, Dayton McGroarty led the Dodge City boys basketball team to its first 6A state tournament appearance since 2012 and earned First-Team All-WAC honors. McGroarty will join the mens basketball team at Dodge City Community College next season.
Dodge City High School signees Jasmine Duarte – Washburn University – track and field Mariela Aldaba Newman University – cross country Brekk Flax – University of Nebraska Omaha – track and field Jessie Harshberger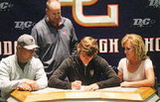 Southeast Missouri State University – basketball Dayton McGroarty Dodge City Community College – basketball Taylor Nichols – Dodge City Community College – basketball Baily Shelor – Dodge City Community College – basketball Brianna Bradshaw Hutchinson Community College – basketball Tyler Trent – Fort Hays State University – track and field