Red Demons win first WAC title in 27 years
The Dodge City High School boys tennis team had won just one Western Athletic Conference championship in team history going into this season. That lone conference title was won nearly three decades ago.
On Monday, the Red Demons ended the 27-year drought with a two-point team win over the Garden City buffaloes in the WAC Tournament.
"27 years, that's a long time," Dodge City head coach Mark Sandbo said. "What are we going to be doing in 27 more years, hopefully not winning our third WAC title.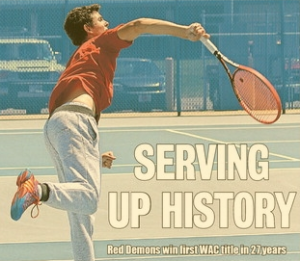 "It feels good. The kids deserve it and it's a program win. The people who have played for our program before these guys have set this up. It's been our goal for about three years now and it has come to fruition."
The conference crown was ultimately decided in the head to head matchups between the Red Demon and the Buffaloes, who had won the previous two WAC titles. Dodge City won three of four matches against Garden City.
The most important victory over the Buffaloes came in the second round of the No. 2 doubles bracket by Dodge City's Richard Rodriguez and Logan Waldman.
"Our singles are strong and stronger than their players for the most part but our doubles is where it was kind of iffy," Sandbo said. "(No. 2 doubles) was the swing round. To go 3-1 and for our No. 2 doubles team to be down 5-0 and battle back to a tiebreaker and get the win 8-6 and the tiebreaker was huge."
Senior Florian Kark and junior Brett Groth made it through the day fairly comfortably. Kark (24-4), who was named Most Outstanding Player, dropped just five games total on his way to an individual WAC title in the No. 1 singles bracket. Groth (22-5) only lost three games as he earned the No. 2 singles title.
The No. 1 doubles team of Angel Salmeron and Maans Spaangaeng fell to Garden City but it was their 8-6 win over Hays in the fourth round that put the Red Demons in the driver's seat.
"All around it was a great team this year," Salmeron said. "Last year we had a chance but we just didn't pull though."
Next up for the Dodge City will be the regional tournament on Saturday in Wichita to determine who will qualify for the state. After capturing their first conference championship in nearly three decades Sandbo believes his team is capable of adding to their momentous season.
"This was a goal and we said before (the WAC Tournament) that we were going to be disappointed for 24 hours or we're going to be excited for 24 hours and then we have bigger fish to fry," Sandbo said. "We're going with the hopes of winning a regional title, which I don't know has ever been done in Dodge City."
The Red Demons' regional will be held at the Riverside Tennis Center in Wichita. Competition will begin at 10 a.m.
By John Zetmeir
Dodge City Daily Globe