Season sweep
Demons win third over Garden City to advance to state tournament
By John Zetmeir
Dodge City Daily Globe
While the Dodge City High School boys basketball team may not have had the toughest sub-statebracketin6A,to earn a trip to the state tournament, they had to face an opponent that they were all too familiar with.
On Saturday, Dodge City and the Garden City Buffaloes met for the third time this season.The Red Demons capped off the season sweep oftheBuffswitha55-42win. Saturday's victory earned Dodge City their first trip to the 6A state tournament since 2011.
"We could be undefeated and (Garden City) could lose every single game and it would still be a competitive game, that's just how the rivalry is," Dodge City senior Eric Reid said following the win. "It's fun going out there and competing with them. We have respect for them but we always want to beat them."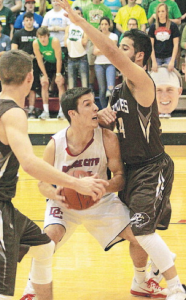 After a closely contested first half, the Red Demons' lead steadily increased during the second half until time ultimately ran out for the Buffs.
After being fouled on a 3-point shot with 2.9 second to go in the third quarter, Dodge City senior Bryce Unruh made the Buffs pay for the foul by knocking down all three free throws.
The three made foul shots were part of a 10-3 second half run by Dodge City and gave the Red Demons a 38-30leadgoingintothefinal quarter.
"We challenged our kids to just outscore(Garden City)by one (point) in the third and fourth quarter," Dodge City head coach Dennis Hamilton said."That's all we needed to do.We went in at halftime not thinking we played as well as we possibly could."
Despite there being just two lead changes in the first half, the Red Demons struggled to pull away from their Western Athletic Conference rival before the halftime break.
After a 3-pointer from Garden City's Garrett Doll gave the Buffs a 10-7 lead with 2:50 to play in the first quarter,Dodge City's Hunter Heath tied the game with a 3-pointer of his own.
Theshotsparkeda14-3run for the Red Demons. Heath scored seven of his season high nine points in the first half. The sophomore guard averaged 1.3 points per game going into Saturday's contest.
"(Heath) kept us in the game in the first half," Hamilton said. "We didn't use him a whole lot in the second half but if I was handing out a game ball it would go to him."
Dollscoredagame-high19 points for the Buffs.
After being sidelined for the Red Demons' first sub-state game, senior Noah Williams returned to the court for Dodge City on Saturday. The senior forward scored eight points and grabbed five rebounds in 17 minutes.
"(Williams) is playing at about 65 (percent) but thinking it could possibly be his last high school game, he didn't want to miss out on the opportunity,"Hamilton said. "Hopefully he can get a little better for next week because we definitely need him."
Dodge City (12-10) heads to the state tournament with seven wins in its last eight games.
"I really feel good for our guys," Hamilton said. "We haven't been (to state) in a few years and to get to put this on top of their season, it's a great feeling for me but I hope it feels better for the guys."
The Red Demons will play Lawrence High School, the No.1 seed in the tournament, at3p.m. at the Koch Arena in Wichita on Thursday.
■ Dodge City – 14 9 15 17 – 55
■ Garden City – 13 7 10 12 – 42
■ DODGE – Walters 10, Heath 9, Unruh 9, McGroarty 8, Williams 8, Reid 6, Karns 5. 17-40 17-28 55.
■ GARDEN – Doll 19, Koster 15, Karlin 4, Davis 2, Elliot 2. 15-54 4-4 42.