GIRLS CROSS COUNTRY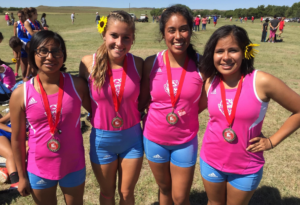 The Red Demon runners took first place on Saturday at the Wolf Creek Classic in Perryton, Texas.
Ayanna Hensley took first place with a time of 13:11.81 and senior Coral Neave finished in third with a time of 13:22.81. Four Red Demons finished in the top-20. Dodge City's junior varsity squad also took first place in the junior varsity race.
"We ran much more as a team this week which showed in our results," head coach Brian Lenz said. "It was good to go to Texas and pick up a win."
The Dodge City girls cross country team will try to build on their first place finish over the weekend when they travel to Hays on Thursday. The meet will begin at Fort Hays State University at 4:30 p.m
Other scores
Marissa Ramirez 11, Luz Lopez 12, Taylor Pence 17, America Garcia 18, Alessia Cargnino 22, Lucy Lozano 27, Chira Okoro 31, Shahira Sanchez 36, Jaclyn Vargas 38, Caroline Williams 42, Bella Rodriguez 49, Karen Umana 52.
GIRLS TENNIS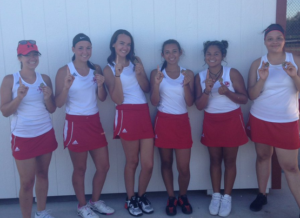 In their second competition of the season, the Dodge City High School girls tennis team scored 65 points at the Great Bend Invitational which earned them the overall team title.
Junior Leah Stein in the No. 1 singles bracket and senior Daniela Villareal in the No. 2 singles bracket both took home first place medals.
The No. 2 doubles team of Siarra Grice and Abigail Argumedo also earned a first place finish while Hannah Sowers and Marin Dameron earned second place in the No. 1 doubles pool. Garden City finished in second place with 47 total points.
The Red Demons will be in action twice this week as they travel to Goddard on Tuesday before returning home to host the Dodge City Invitational on Thursday.