Senior Joshua Donjuan had four goals in the effort
By: Shelton Burch
Dodge Globe Staff Writer
In less than a minute, the Wichita South Titans showed the Dodge City Red Demons boys soccer team that they were ready to play. After that, the Demons woke up and went to work.
The Red Demons won their season-opener 11-1 Tuesday night in Dodge City after falling behind 1-0 on a penalty kick in the opening minute.
"I think we came out a little complacent," Red Demons head coach Saul Hernandez said. "I think that woke us up, and we needed that. It's kind of tough coming back to get these boys' mindset right, that everyone's after us, and I think after those 30 seconds they realized that everyone's after us, and that was a good waker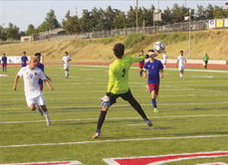 upper."
Despite the slow start, Hernandez said he liked some of what he saw in his team.
"I think they responded well," Hernandez said. "They kept their composure, and we answered with 11 goals."
Senior Joshua Donjuan picked up right where he left off after his junior season. Donjuan scored the lone goal in the state championship game back in November 2016. Tuesday night, he led all scorers with four goals.
Hernandez said the energy Donjuan played with was nothing new.
"He's been like that for the last two seasons, so we expect that from him," Hernandez said. "He expects that from himself as well."
This season's varsity team is composed of 13 seniors, two juniors, three sophomores and two freshman.
Among the two freshman is Alan Lopez, who scored twice in the game, including the game 11th Demons' goal, the tally which ended the game.
Hernandez said he appreciates the quality the freshman bring to the varsity team.
"We're going to give them minutes here and there, and we're going to work them up so they can be ready for the end of the season," Hernandez said. "This freshman class coming in is a really good class and I think those are the two that stand out from that class."
The Demons fell behind 1-0 in the opening 30 seconds, a deficit which disappeared with 36:29 remaining in the firsthalf. The Demons passed the ball in from the corner to the left of the Titans' goalkeeper. Despite an initial save, Dodge City senior Mario Martinez scored off a rebound from just to the goaltender's left near the goalie-box.
Martinez' goal tied the game at 1-1. Then, with just over 30 minutes left
in the first-half, Donjuan scored his first goal of the game to make it 2-1 in favor of the Red Demons.
The Demons finished the half with a 6-1 lead, eventually scoring 11 straight to end the game.
Despite the lopsided victory, Hernandez said the team will be at work cleaning things up.
"We're going to clean up some passes, we're going to clean up some of the plays that we have set, but other than that we don't want to hit our peak too early," Hernandez said. "I think we started off on the right foot and we'll keep on getting better."