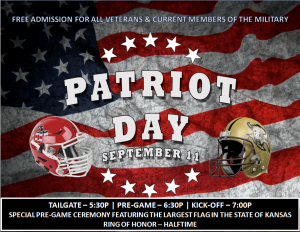 The Dodge City High School football program will continue its City League run this Friday night as the "Red Demons" host the Wichita Southeast "Buffaloes" at Memorial Stadium. Both the Red Demons and Buffaloes will be looking for their first win of the season. Dodge City fell to Wichita West (48-41); while Southeast dropped their opener to Wichita Heights – Dodge City's week three opponent.
Series History
The Red Demons have faced the Golden Buffaloes sixteen times in the storied history of both programs. The Red Demons first played the Buffaloes in 1963 with the Buffs winning the inaugural contest by a score of 28-13. Five of the contests have come in the KSHSAA Playoffs with Dodge City winning four of the five playoff games. The overall series record has Dodge City with a (12-4) advantage. A six-game winning streak in the series by the Demons was halted by Southeast in 2008. However, the Demons have now won the last six.
Game Night
On Friday night, Dodge City High School will be inducting three Air Force Generals into the Alumni Association Ring of Honor. A special pre-game ceremony is planned, along with the halftime induction ceremony. The largest USA flag in Kansas will be showcased during the pre-game ceremony, along with a special musical performance in honor of Patriot Day.
Location: Memorial Stadium
Game Time: 7:00 p.m.
Tail gate: 5:30 p.m.
Pre-game show: 6:30 p.m.
Admission: $5 Adults, $3 Students (Staff passes will be accepted)
ALL VETERANS WILL BE ADMITTED FREE OF CHARGE