By John Zetmeir / Dodge City Daily Globe
The Dodge City High School girls soccer team has been tested from the very start this season. In their first six games, the Red Demon dropped close contests to Bishop Carroll, Derby and Thomas More Prep-Marian.
It was the experience from those games that prepared them for undefeated Wichita Trinity, the top ranked team in the 4-1A class by the Kansas Performance Index. On Tuesday the Red Demons beat the Knights 3-1.
In the 34th minute of the game sophomore Mariyah Reyes chipped a pass over a Trinity defender that landed at the feet of fellow sophomore Ariana Temblador who found the back of the net to give Dodge City a 1-0 lead.
For nearly 30 minutes, it looked like the Red Demons would have to hold on to the one goal advantage if they wanted to secure the win. What followed was a five-min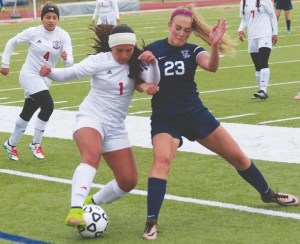 ute span of poor defending by Trinity that Dodge City capitalized on.
After a goal from Aneth Morales put the Red Demons up 2-0 with 17 minutes to play in the game, Reyes delivered the knock out blow in the 12th minute.
The Red Demons' leading scorer took advantage of the rainy day when she challenged Trinity's goalkeeper Alex Bearup with a shot from outside the penalty box. The ball slipped right through Bearup's fingers and gave the Red Demons a 3-0 lead.
"She's been scoring them from all over so why not shoot it," Dodge City head coach Saul Hernandez said. "I have confidence in her and with the conditions a little slip up like that can happen at any moment.
"Senior goalkeeper Angie Ojeda came up with two big saves late in the second half to secure the win for the Red Demons. A goal with a little more than eight minutes left in the game pushed the momentum back in the Knight's favor. Trinity's Ally Henderson came close to making it 3-2 with 6:32 to play in the game but Ojeda denied the junior midfielder of her second goal.
"That was a big block," Hernandez said. "We didn't clear the ball right and that's what gave (Trinity) the opportunity but Angie was on her game today. She helped us get that win."
After splitting their first six games of the season, Dodge City (6-3, 3-0) heads to Wichita Heights on Friday riding a three game winning streak.
"Now the girls know they are capable of and I think it's going to help us in the long run," Hernandez said. "Hopefully we don't get too overconfident and just feed off of this and keep going."
The Red Demon girls will return to Western Athletic Conference play next week when they open up a two-game home stand. Dodge City currently sits atop the WAC standings.