Dodge City wins seventh straight game
By: John Zetmeir
In their first home game of the season, the Dodge City High School boys soccer team beat their rivals, Garden City, 2-0 to move one step closer to their second consecutive Western Athletic Conference championship.
Despite the Red Demons (7-0, 3-0)controlling the game for most of the evening, Garden City (5-2, 1-2) began to find more of a rhythm toward the end of the first half and the beginning of the second half when their goalkeeper Kender Acevedo saved a Dodge City penalty kick.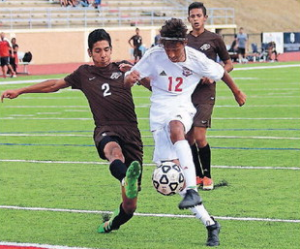 "It's always scary with penalties in a close game like that," Dodge City head coach Saul Hernandez said. "If you miss, they can get the momentum and you don't know if your guys are going to hang their heads and get frustrated."
Shortly after the missed penalty kick, junior Joshua DonJuan scored his second goal of the game with just under 30 minutes to play in the game. DonJuan scored his first goal 13 minutes into the game when he beat Acevedo with a free kick from just outside of the penalty box.
"We work on our set pieces a lot and coach just told me to shoot it so I did," DonJuan said.
DonJuan is the Red Demons leading scorer with 10 goals in seven games this season.
The Buffaloes best opportunity came just before halftime when they forced senior goalkeeper Jorge Ortiz to make a save. It was their first shot on goal of the day.
Through their first three WAC games, the Red Demons have outscored their opponents 12-0. They had not recorded a shutout prior to WAC play.
"Our defensive effort, with a third shutout in a row, is big," Hernandez said. "When you keep teams at zero it's hard to lose a game. I saw a lot of good stuff and I think we're on our way to getting where we want to be."
Dodge City will travel to Great Bend on Thursday before returning home to host Hutchinson next Tuesday. The Red Demons and Buffaloes will square off for a second time next Thursday in Garden City.