Red Demons take first at WAC championship for the second straight year
By: Timothy Everson
It came down to the very last match of the day but the Dodge City boy's tennis team repeated as WAC champions.
The championship is split with Garden City who also recorded 13 wins throughout the day. The Red Demons got to host the tournament after it was postponed and moved from Garden City due to weather.
Dodge City swept through singles play with both number one singles player Brett Groth and number two singles player Victor Bernia going 4-0 on the day to take first place in their respective divisions.
With the four wins today, Groth is now 24-2 on the year and was named WAC Player of the Year.
In Dodge City was solid in the doubles matches as well. The number one doubles team consisting of Zachary Ridg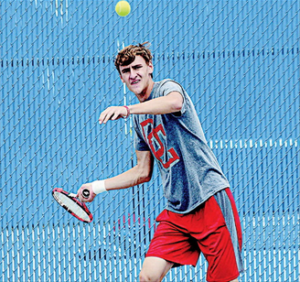 way and Rolando Lopez finished third going 2-2 while the number two doubles team of Bryce Harmon and Colin Clark tied for first with a record of 3-1.
What makes the repeat even more impressive is that the Red Demons had
five seniors to replace from last years team.
Dodge City will host the regional tennis tournament this Saturday starting at 9 a.m.
The Red Demons were regional champions in 2016.