Lady Demons top Great Bend
By: John Zetmeir
DODGE CITY GIRLS 43, GREAT BEND 37
The second leg of Western Athletic Conference schedule has gone better for the Dodge City High School girls basketball team than the first.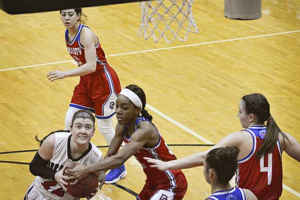 After losing their first four WAC games, the Red Demons won their second straight on Friday night with a 43-37 win over the Great Bend Panthers. In the first meeting, the Panthers topped Dodge City 52-37 which snapped an 18-game conference winning streak for the Red Demons. Great Bend was undefeated in WAC play prior to Friday night's loss.
Dodge City (6-12, 2-4) jumped out to a 19-6 lead in the first half before the Panthers cut it down to four points early in the second half.
With 6 minutes to play in the game, senior Tia Bradshaw put the Red Demons up 37-25 with a 3-point play but Dodge City followed with a 5-minute scoring drought. Bradshaw brought the win home with four free throw makes in the final 46 seconds. Bradshaw scored a game-high 18 points.
GREAT BEND 45, DODGE CITY BOYS 36
The Red Demon boys got off on the wrong foot against the Panthers in their 45-36 loss on Friday night.
Great Bend raced out to a 12-2 lead going into the second quarter.
Things got worse for Dodge City in the second half as the Panthers' lead grew to 34-14 in the third quarter.
Great Bend's Kody Crosby led all scorers with 23 points while junior Hunter Heath led the Red Demons with 14 points.
Dodge City (3-15, 1-5) will host Hays on Tuesday in their final home game of the season.