DonJuan named WAC Player of Year
By: John Zetmeir
The Dodge City High School boys soccer team have earned more than statewide recognition for winning the 6A state championship last Saturday.
On Tuesday, the Red Demons earned national recognition. Dodge City jumped all the way to No. 6 in the National Soccer Coaches Association of America's Super 25.
Along with being the No. 6 ranked team in the country, the Red Demons are the No. 1 ranked team in Region VII which includes Kansas, Illinois, Missouri, Montana, North Dakota and South Dakota.
"It was unexpected," Dodge City head coach Saul Hernandez said. "I was just hoping to break the top 25 but seeing them rank us so high is a sign that these boys are starting to get the respect that I think they deserve and that they have deserved for the last couple of years."
It was Dodge City's wins over Shawnee Mission East and Olathe East that ultimately propelled them to be recognized as a nationally ranked team. Both Shawnee Mission East and Olathe East spent time in the Super 25 this season.
Not only does the national ranking add a cherry on top of Dodge City's historic season, it will also help open new doors for Red Demons who hope to play college soccer.
"It's going to start getting the boys exposed to some bigger colleges," Hernandez said. "So now I can get more coaches asking about the boys because being ranked No. 6 in the nation is going to open up some eyes."
Since returning from Wichita on Saturday, Hernandez admitted that things have been a little hectic for the team, though not in a bad way.
On Monday, the Red Demons were recognized at city hall.
There will be a community celebration at Memorial Stadium on Thursday at 5:45 p.m.
"We don't mind the exposure for the program," Hernandez said. "This is what everybody wanted in the program, it's happened and now we have to know how to handle the situation in the best way possible."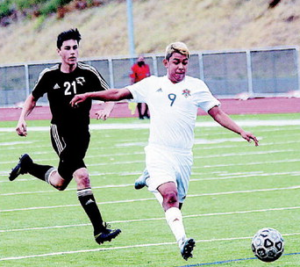 ALL CONFERENCE HONORS
Six Red Demons in all earned Western Athletic Conference honors this season.
Led by junior Joshua DonJuan who was named WAC Player of the Year, Francisco Cayetano, Miguel Baca and Mario Martinez all earned first team honors.
Juniors Eddie Del Toro and Cesar Alvarez were placed on the Second Team All-WAC list. For the second season in a row, Hernandez was named WAC Coach of the Year.
Since Hernandez took over as head coach prior to the 2015 season, the Red Demons are 16-0 in conference play with two outright WAC titles.