Demons take down Grizzlies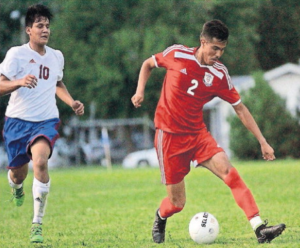 The Dodge City High School boys soccer team advanced to the semifinals of the Titan Classic with a 5-1 win over Wichita Northwest on Monday.
Junior Joshua DonJuan gave the Red Demons an early 1-0 lead with his fifth goal of the season but the Grizzlies quickly tied it up with a goal of their own. Two more goals from Dodge City before the halftime whistle put them back in control.
Dodge City's Mario Martinez got on the score sheet with his third goal of the season in the second half before DonJuan added the final goal of the game.
The Red Demons (2-0) will travel back out to Wichita on Thursday for a matchup against Kapaun. Dodge City defeated Kapaun 1-0 in last year's Titan Classic consolation game.