Demons shut out Liberal
By John Zetmeir
Even though the Dodge City High School boys soccer team had won its first four games, head coach Saul Hernandez wanted to see his team play better defensively.
In the Red Demons' (5-0, 1-0) Western Athletic Conference opener on Tuesday in Liberal, they collected their first shutout of the season with a 1-0 win over Liberal.
"The defense held its own today," Hernandez sa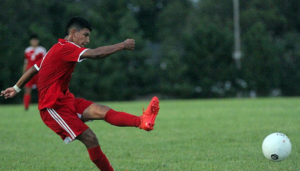 id. "(Liberal) was countering a lot and our defense stayed organized and I'm really proud of the boys for sticking it out for the whole 80 minutes."
Senior goalkeeper Jorge Ortiz came up with a big save in the first half to keep Liberal off the scoreboard when he saved a penalty kick late in the first half after Dodge City took the 1-0 lead.
Despite winning both matches against Liberal last year, the Redskins made it tough for the Red Demons to find the back out the net. Dodge City outscored Liberal 4-0 in the two meetings last year. Liberal made it just as tough for them to score on Tuesday.
The lone goal came in the first half when junior Francisco Cayetano received the ball off of a set piece and crossed it into the box. The ball took a favorable deflection for the Red Demons and ended up in the back of the net.
"In Liberal Dodge City games, it's always tough for any team (to score)," Hernandez said. "Both teams are going to be organized (defensively) and throw themselves in front of the ball to prevent a goal and
today was not different."
The Red Demons will be back on the road for the sixth straight time on Thursday when they travel to Hays. It will be Dodge City's final road game before their home opener against Garden City on Tuesday.
Last season, the Red Demons outscored the Hays Indians 18-0 in two meetings but Hernandez does not want his team to look past this Thursday.
"I never like to take a team lightly, no matter how we beat them in the past," Hernandez said. "I just want to keep the boys focused on the next game and not let them take their foot off the pedal."