The quicker the Dodge City High School boys soccer team can score a goal, the quicker they can unlock their opponent's defense.
On Tuesday, it took the Red Demons about 50 minutes against Hutchinson. On Saturday against Wichita Heights, it took only 3.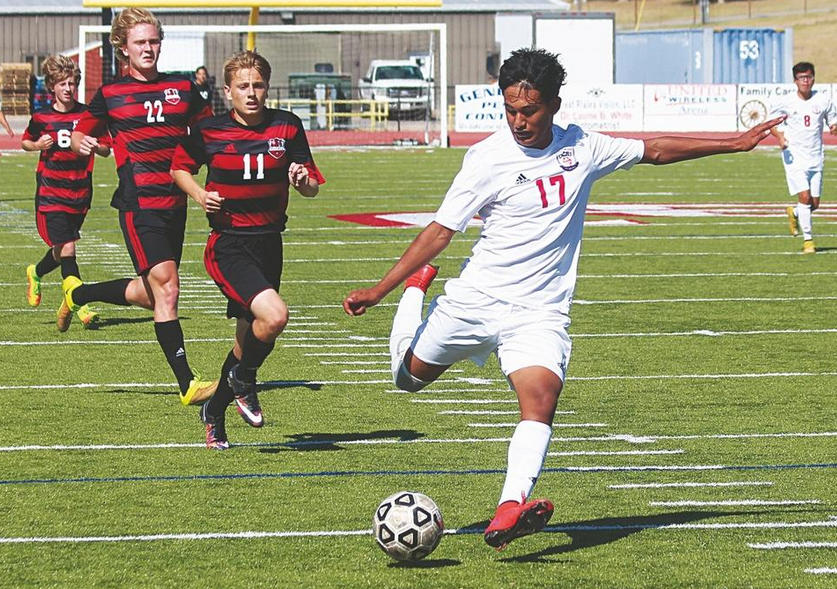 Junior Joshua DonJuan found the back of the net early and Dodge City went on to beat the Falcons 6-0 to win its 11th straight game to maintain its perfect record.
"Getting a quick goal changes the outlook for the other team," Dodge City head coach Saul Hernandez said. "They are going to have to look for a goal and open up play for us. That's what showed today. We got a lot of opportunities."
Heights' best opportunity came in the opening seconds when they booted the opening kick towards Dodge City's goalkeeper Jorge Ortiz. Ortiz, who had only been between the goal posts for a couple of seconds, reached up and made the save.
Mario Martinez added his 10th goal of the season to give the Red Demons a 2-0 lead in the 12th minute. Fellow junior Francisco Cayetano scored two goals in the second half.
Cayetano, who had scored just one goal on the season, tallied five goals last week which included two against both Hutchinson, Wichita Heights and the game winner against Garden City on Thursday.
"Coach said have confidence in ourselves and shoot from outside (of the penalty box) so that's helped me a lot and I've worked on improving myself and working collectively with the team," Cayetano said.
With just six games left in their schedule, the Red Demons (11-0, 5-0) have still not lost a game this season. They are one of just three teams that still has a perfect record this season.
"We try not to talk about it," Hernandez said about his team's perfect record. "If we focus too much on it, I think it'll just put more pressure on the guys. We're taking it game-by-game and that's how we're going to keep going the rest of the season."
The Red Demons will host Hays on Tuesday night at Memorial Stadium.
By: John Zetmeir, Dodge City Daily Globe