By John Zetmeir
Dodge City Daily Globe
After two strong team performances last week, the Dodge City High School wrestling team moved from No. 5 to No. 3 in the 6A state wrestling team rankings.
Head coach Lars Lueders is happy to see his team win but he often emphasizes that it is not just about winning matches. He wants to see his team wrestle to their full potential every time they step out onto the mat. Last week, particularly in their 34-29 dual win over Garden City, Lueders saw that from his team.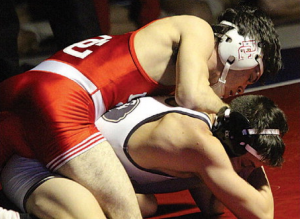 "The dual against Garden was the best team effort that I've seen from a Dodge City wrestling team since I've been here," Lueders said. "They really wrestled for the team."
The Red Demons will host Hays in their third home dual on Thursday night. While the Indians may not test Dodge City the way Garden City did, Lueders is making sure his team does not lose focus like they did against Great Bend.
"We don't want to have another let down like we had at Great Bend where we come out thinking that we should win and they'll roll over for us," Lueders said. "Our kids need to come out prepared. If they are wrestling a kid maybe not as tough, they need to come out, dominate and get a pin."
After losing to Great Bend to start their Western Athletic Conference schedule before winter break, the Red Demons responded by beating Garden City, the No. 1 ranked team in 6A last Thursday.
On Saturday, Dodge City closed out their week by taking first place at the Maize Invitational. The biggest difference between the team now and the before winter break has been the leadership, particularly from the upperclassmen.
"I think a lot of us upperclassmen just weren't 100 percent focused on getting the team ready," senior Clay Weil said. "We were more worried about ourselves and getting to the next level. After the loss to Great Bend I think we all realized that it's not just us that want to get to the next level, it's a team deal."
The Red Demons have six wrestlers ranked in their respective weight classes. Weil and fellow senior Howard Johnson along with juniors Devon Plaza and Tylor Garcia are ranked in the top-three of their weight classes.
The dual is scheduled to begin at 6 p.m. on Thursday night at Dodge City High School.