Demons remain optimistic
By: John Zetmeir
The Dodge City High School boys basketball team aren't worried about what their record was through the first 20 games of their season.
As far as the Red Demons (3-17) are concerned, they are 0-0 and have two games potentially against familiar opponents standing between them and a trip back to the 6A state tournament. None of the four teams in Dodge City's sub-state bracket has a winning record. The best record amongst the group is Wichita North who went 10-10 on the year.
"The grou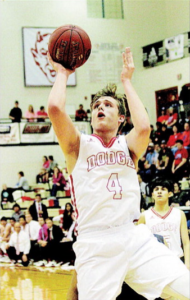 ping of four that we got placed with is something that we feel like we can compete with," Dodge City head coach Dennis Hamilton said. "Being a three-win team, normally you are getting matched up with a 16-win team or somebody that had a great year."
On Wednesday night, they will travel to Wichita North for a rematch with the Redskins, who they suffered a 59-48 loss against in the opening round of the Tournament of Champions back in January. In that loss, the Red Demons outscored the Redskins over the final three quarters of the game but falling into an early 21-6 hole was too much for them to climb out of.
"We'll play with a chip on our shoulder," Dodge City senior Chris Baker said about the rematch. "We're going to their place so it would be even sweeter if we get the win there."
The Red Demons are not looking past Wichita North, but knowing that a third game with Garden City is a possibility with a win on Wednesday is in the back of their minds. If the two Western Athletic Conference teams were to both win their sub-state opener on Wednesday, the Red Demons would travel to take on the Buffaloes on Saturday.
The Buffaloes won both regular season meetings in a pair of close contests.
"It would be great to play Garden in the second round but we're focused on North right now," Baker said. "But we definitely want to play Garden next game."
Tipoff is scheduled for 6 p.m. at Wichita North.