Red Demons advance to state semifinals with 3-0 win over Garden City
By: John Zetmeir
The Dodge City High School boys soccer team knew that it would not be easy to beat the same opponent three times in one season.
But in order to keep their goal of winning a 6A state championship alive, they would have to do so against their Western Athletic Conference rivals Garden City. Dodge City met plenty of resistance from Garden City, but the Red Demons earned their second-straight trip to the state semifinals with a 3-0 win.
"It was a tough match," Dodge City junior Eddie Del Toro said. "Especially in the playoffs, everyone is going to want to win and everyone is going to play hard. We just had to make sure that we got the job done."
Junior Joshua DonJ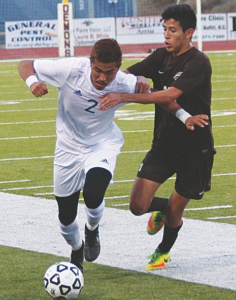 uan got the Red Demons on the scoreboard when he beat Garden City goalkeeper Kender Acevedo with 17 minutes to play in the first half. Acevedo kept the Buffaloes in the game by making 11 saves on Tuesday night.
DonJuan's goal on Tuesday was his 24th of the season.
Dodge City held a 1-0 lead for nearly 45 minutes until senior Elijah Ortega delivered a long throw into the penalty box where sophomore Josue Castillo scored his sixth goal of the year with 12:15 to play in the game.
"(Castillo) is going to give you everything he has, whether it's for 2 minutes, or 15 minutes," Dodge City head coach Saul Hernandez said. "I think he's scored every time he's gone on. He did what he was supposed to do."
Junior Mario Martinez stamped the victory with 38.8 seconds left in the game by scoring his 15th goal of the season.
Hernandez, who is in his second year as head coach of his alma mater, has led the Red Demons to the state semifinals in each of his two seasons. Dodge City's (19-0) win on Tuesday also tied the school's single season wins record.
The Red Demons will travel to Wichita on Friday for a semifinal match-up with Shawnee Mission East.
"The seniors get a second shot (at a state title)," Hernandez said. "Some people never even get a shot. So to get a second shot at state with this momentum that we have is great. I'm really happy for the seniors to get a second opportunity. They deserve it with the leadership and hard work that they've been putting in."