Red Demons play host to Garden City
After a month of loading up on a bus and hitting the road for their games, the Dodge City High School boys soccer team will play at Memorial Stadium for the first time this season.
The Red Demons (6-0, 2-0) played their first four games in Wichita before taking on Western Athletic Conference foes Liberal and Hays last week.
"We've been looking forward to it since the season started," Dodge City head coach Saul Hernandez said. "It almost felt like we were never going to have a home game. It's always special to play in front of the fans, I think the kids feed off of their energy."
Dodge City's first home game will be against the team that gave them the most trouble last season in WAC play, Garden City. The Buffaloes were the only WAC team to score a goal in both meetings with the Red Demons last season.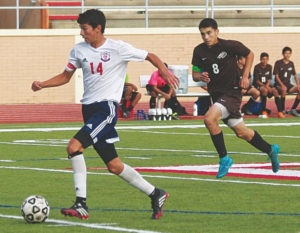 "Being a rivalry game, the intensity is up," junior Miguel Baca said. "(Garden City) plays aggressive and we play aggressive so it's a fun game to play."
The only blemish on Garden City's 5-1 record was a 3-2 loss to Liberal last Thursday. The Buffs have outscored their opponents 19-3 this season.
"The culture over there in Garden City is the same as over here," Hernandez said. "It's always tough playing against them. No one wants to lose that one."
The Red Demons have outscored their opponents 29-5 so far this season. Their 24 goal differential is the best amongst the 32 teams in 6A.
Joshua DonJuan and Mario Martinez are leading the way for the Red Demons. The two juniors forwards have combined for 14 goals.
The varsity game is set to begin at 5:30 p.m. at Memorial Stadium.