By: John Zetmeir
The Dodge City High School wrestling team recovered from a slow start in their dual with Great Bend on Thursday to pull out a 39-33 win.
The Panthers took an early 12-0 lead courtesy of back-to-back pins to start the dual before Dodge City won six of the next eight matches. Those two losses were both open slots that the Red Demons' did not fill in their lineup.
Overall, Dodge City head coach Lars Lueders was pleased with his team's performance in their first of three home duals this season.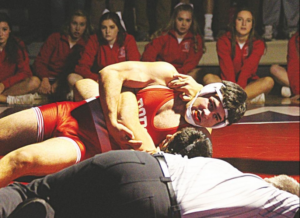 "We're really trying to make sure that they're consistent and that they are the same every time," Lueders said. "It's better than it has been in the past but you could tell that our kids got really nervous and you could tell that they were amped up with the crowd, that's natural."
In what turned into the match of the night, Dodge City senior Kenedy Escobedo toughed out an 11-8 decision win over Great Bend's Eric Vazquez.
"Holy smokes that was amazing," Lueders said. "That was one of the coolest matches that I've ever seen in my life."
Escobedo (11-2) and Vazquez battled back and forth for all three periods, each nearly pinning the other two different times. The Dodge City senior trailed 6-4 before stringing together an escape, take down and near fall on his way to the win.
"(Vasquez) was good," Escobedo said. "He got me in the first period, I just decided not to give up."
Dodge City's Dylan Servis, Ansony Quezada and Marcos Fisher all won by fall. Sophomore Couy Weil and senior Devon Plaza won by technical fall. Plaza, last year's 6A 126-pound state champion, is 8-0 this season.
In the final match of the night, senior Tylor Garcia improved his record to 13-1 by defeating Great Bend freshman Gage Fritz with an 8-2 decision.