By John Zetmeir, Dodge City Daily Globe
Both the Dodge City High School boys and girls basketball teams will put their three-game winning streak on the line when they travel to Central Plains on Tuesday.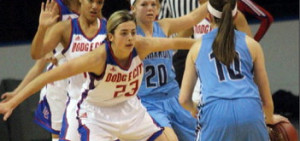 The LadyDemons will face perhaps one of their toughest tests of the season on Tuesday. The Oilers are the two-time defending 2A state champions and returned the core of last season's championship team. "They're a great test," Dodge City head coach Kelley Snodgrass said. "Close to everyone returning, state champions, two of the best players in the state. They are just a really solid and physical team. They're not the typical 2A (team)."
Senior guards Reagan Phelan and Taylor Rolfs highlight the Oilers. Both players havebeenmajorcontributors for the Oilers past two state titles. Phelan is committed to play at Washburn University next season while Rolfs is committed to Fort Hays State University.
Dodge City's depth could play a major role for the Red Demons, particularly when itcomestodefendingthetwo Oiler standouts.
"We have to keep fresh legs on them because they can attack well and shoot it," Snodgrass said. "We'll give them our best shot, defensively."
Dodge City (5-2) has won its last three games by an average of 42 points.
The Red Demon boy s(4-3), who have also been playing better of late after a slow start to the season, will also be challenged on Tuesday.
The Central Plains boys team also returned a majority of last season's squad that took second place at the Tournament of Champions and were the 2A state runner ups.
"They play well together," Dodge City head coach Dennis Hamilton said. "It's kind of refreshing watching a team like that."
After struggling to score early in the year, the Red Demons have found a better rhythm offensively during their three-game winning-streak.
During Dodge City's 1-3 start, the Red Demons eclipsed the 50-point mark just once. In their past three games, the Red Demons are averaging just under 68 points per contest.

"I think it's just the natural progression of the season," Hamilton said. "We are becoming more comfortable, we're finding good shots and we're being aggressive rebounders especially with Noah Williams and I am going to give Bryce Unruh some credit to."
Through the Red Demons first seven games, senior Dayton McGroarty has been DodgeCity's most consistent scoring threat. The senior guard is averaging 15 points per game.
"I think (McGroarty) has blossomed into an extremely good high school basketball player," Hamilton said. "He has a knack of getting to the basket, shoots well enough to keep people honest and can defend."
The girls are scheduled to tipoff at 6:15 p.m. with the boys game following at Central Plains High School on Tuesday.