Demons look to bounce back against Hereford
By: John Zetmeir

The Dodge City High School basketball teams have had a whole week to prepare for their second game of the season following last Friday's losses at Junction City.
The Red Demon girls did not get off to the start to the season that they were hoping for in Junction City. Dodge City fell to the Bluejays 46-43 but trailed by 15 points in the first half.
After being rebounded 3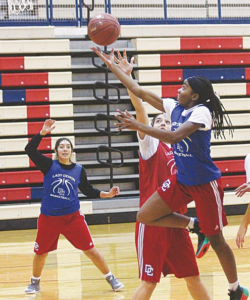 9 to 29 and giving up 17 offensive rebounds to Junction City last week, Dodge City head coach Kelley Snodgrass said that rebounding has been a big focus for the Red Demons this week in practice in preparing for Hereford.
"We definitely have to box out," Snodgrass said. "Hereford rebounds just as well, if not better, than Junction so that's been a point of emphasis. That and taking care of the ball. We have to value every possession and limit our turnovers."
In her first high school game, freshman Chidera Okoro scored six points and also grabbed four rebounds last Friday.
"Chidera plays hard," Snodgrass said. "I didn't know if we would use her this early but she's proven herself in practice and did some good things for us so I decided to give her a shot and she rose to the occasion."
The Hereford girls fell to Liberal on Thursday night.
The Dodge City boys are also looking to bounce back after their 48-32 loss to Junction City.
The Red Demons got off to a strong start by taking an 11-3 lead over the Bluejays but as the game went on, Dodge City struggled to score.
"We made shots and that's always a good sign but as that game unfolded, our shooting percentage just went down and down," Dodge City head coach Dennis Hamilton said. "We've spent some time on just finishing around the rim in practice. It's correctable. Is it correctable in one week? I think we're going to be a better team with the guys that we have to play than we were a week ago."
Dodge City will be without senior Justin Schowengerdt who was injured early in last Friday's season opener. Schowengerdt was one of four returners with varsity experience from last season.
Junior Dawson Williams will likely replace Schowengerdt in the starting lineup. Williams grabbed eight rebounds against Junction City last week.
Tip off will be early than the average Friday as the Dodge City girls will square off with Hereford beginning at noon with the boys following at 2 p.m. in Liberal.