After winning both games on Thursday down in Woodward, Oklahoma, the Dodge City High School boys and girls basketball teams will host Manhattan High School on Saturday night.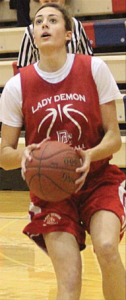 The girls team used a strong fourth quarter performance on Thursday to move to 2-0 on the season with a 48-38 win over the Boomers.
"We got in some foul trouble and it was a close game going in (to the fourth quarter)," girls head coach Kelley Snodgrass said. "We were more aggressive overall. It was great team basketball."
Through their first two games, Dodge City's depth and experience has been on display. Senior Jessica Harshberger, last year's leading scorer, is averaging 14 points a game to lead the Demons. Tia Bradshaw is just behind her, averaging 13 points per game.
As the Lady Demons get ready to face off with Manhattan, Snodgrass likes where her team is at after the first week of the season.
"We've got everybody back so we are ahead of the game that way," Snodgrass said. "We're still making some unforced turnovers but that will (improve) when we get more used to each other. We're taking it one game at a time but I have high hopes for this group."
The Manhattan Indians, a squad that faced nearly the opposite situation as the Red Demons coming into the season, graduated a majority of their team that made it to the 6A state tournament last season.
"They lost a lot but they are always a great team," Snodgrass said. "They reload, they are very well coached and it will be a very tough test for us."
A 53-42 win over Woodward gave the boys team their first win of the season on Thursday. In their season opener against Junction City, the Red Demons struggled to score, shooting just 16-of-48 from the field and 9-of-17 from the free throw line. Against Woodward, Dodge City had more success shooting the ball, finishing 17-of-40 from the field and 15-of-19 from the line.
Dodge City head coach Dennis Hamilton was pleased with the way his team bounced back, especially from the free throw line.
"Hopefully it's contagious," Hamilton said. "We had some kids who missed them in the first game step up and hit them against Woodward. That's kind of an avalanche area. When it's going good, it's good but when it's going the other way it's bad. Hopefully that's a step in the right direction."
The Red Demons will face one of their toughest tests on the season when they square off with Manhattan. After winning the Centennial League title last season, the Indians are off to a 3-0 start this year.
"Manhattan is extremely talented again," Hamilton said. "They bring in a lot of size, guards, shooters. They are all fine basketball players."
By John Zetmeir
Dodge City Daily Globe