By John Zetmeir
Dodge City Daily Globe
Thursday's Dodge City Invitational gave the Dodge City High School boys tennis team the chance to gain value varsity experience.
The Red Demon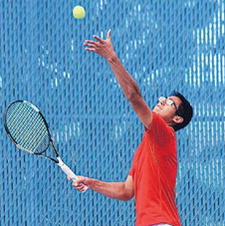 s fielded three full teams to compete against six other schools in the nine team field. The Dodge City red team took first place overall with 31 total points.
The Dodge City red squad dominated the doubles field. The No. 1 doubles team of Angel Salmeron and Maans Spaangaeng along with the No. 2 doubles team of Ronaldo Lopez and Collin Clark both earned first place finishes. In the No. 1 singles championship, junior Brett Groth from the Dodge City blue team defeated teammate Florian Kark 8-6 to earn 10 points for the blue team.
Freshman Joel Ostrom from the Dodge City white group made it all the way to the championship round in the No. 2 singles bracket before falling to his opponent from Meade. The No. 2 doubles team of Thai Nguyen and Jonathan Austin also made it too the championship round but fell to Lopez and Clark.
The Red Demons will have a quick turnaround as they head to Garden City on Saturday.