Off and running

By: John Zetmeir
Both the Dodge City High School Red Demons and the Wichita West Pioneers came into Friday's season opener hoping that their run-heavy offensive game plan would wear down the opposition's defense.
West's defense wavered, Dodge City's did not.
Two first half touchdowns were all that Dodge City needed in their 14-7 win over the Pioneers on Friday night.
A 38-yard touchdown run by West's Xavier Sellers with 4:40 to play in the game gave the Pioneers life but with 1:15 to go, the Red Demons came up with their third fourth-down stop of the evening to secure the win.
"We put ourselves in that situation at the end of the game because our offense basically disappeared in the second half," Dodge City head coach Dave Foster said. "Essentially it rode on our defense's shoulders and we were excited that we held them to seven points."
After a fumble by the Pioneers on their first drive of the game gave the Red Demons the ball at midfield, Dodge City scored it's first touchdown of the season when junior quarterback Dawson Williams scrambled into the end zone from three yards out.
The touchdown was set up by a 23 yard run by senior running back Tylor Garcia.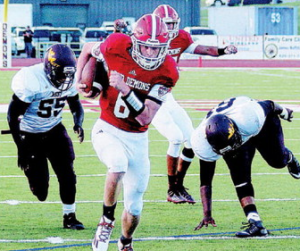 In his first career start, Williams completed 2-of-3 pass attempts for eight yards and carried the ball 31 times for 131 yards and two touchdowns. Garcia also eclipsed the 100-yard mark as he finished with 102 yards on 23 carries.
"I thought (Williams) did some tremendous things," Foster said. "There are times that you look out there and he doesn't appear that fast but he's still getting to the edge. It's a deceiving type of speed because (West) had some kids on the field that can run."
Dodge City's defense made it's biggest stop of the first half midway though the first quarter when the Red Demons stopped the Pioneers offense on a fourth down and goal from the Dodge City three-yard line.
The Red Demons will have a shorter week than usual to prepare for their first road game of the year as they will play Wichita Southeast next Thursday night.
While a majority of the season is still ahead of the Red Demons, Foster is glad that his team is starting the season off with a notch in the win column.
"It's big, especially with the playoff system," Foster said. "Everything is about seeding so you are trying to play at home in week nine. It's a tremendous win for us knowing that we started off on the wrong foot a year ago and it hurt us throughout."
DODGE CITY – 14 0 0 0 – 14
WICHITA WEST – 0 0 0 7 – 7
SCORING
1Q Dodge City, Williams 3 run. Kick good. 7-0.
2Q Dodge City, Williams 15 run. Kick good. 14-0.
4Q West, Sellers 38 run. Kick good. 14-7.