Red Demons hold off Panthers
By John Zetmeir
Dodge City Daily Globe
For the first 15 minutes of Thursday's game, the Dodge City High School girls soccer team appeared ready to end their week with a big win against Great Bend. The Red Demons created nearly 10 goal scoring opportunities early on but struggled to capitalize.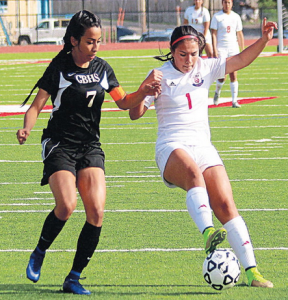 Great Bend's goalkeeper Ellie Anspaugh limited the damage early on but a costly miscue from the freshman turned into the game winning goal as Dodge City beat the Panthers 2-1.
The win kept the Red Demons (9-3, 5-0) at the top of the Western Athletic Conference standings.
With 32 minutes remaining in the second half, Anspaugh tried to keep the ball in play after making a save. The ball ended up at the feel of Dodge City's Mariyah Reyes who converted the mistake into her 13th goal of the season.
"She earned that goal," Dodge City head coach Saul Hernandez said. "Some people might say that they gave it to us but (Reyes) had to make the run to be there."
Junior Pamela Rosales gave Dodge City a 1-0 lead in the ninth minute of the game. It was the Red Demons fourth shot on goal in the first 10 minutes of the game. After the goal, the Panthers took control of the game for the rest of the first half.
Great Bend tied the game just four minutes into the second half when Diana Quiroz found the back of the net on a free kick.
"We slowed down again," Hernandez said."We have to learn to stay focused and to finish the game out and not to start relaxing that early on."
The Red Demons will host Wichita East next Tuesday before finishing the season with three straight road games against WAC opponents.