By John Zetmeir
Dodge City Daily Globe
The Dodge City High School basketball teams have two games left before winter break. On Friday, both the boys and girls teams will travel to Eisenhower for their first game of two games in two days.
The Dodge City boys team (1-2) will continue with their tough early schedule when they travel to play the Tigers on Friday. Eisenhower (3-1) is led by 6-foot-8 junior Matt Pile that is averaging 17.5 points and 13 rebounds through the Tigers' first four games.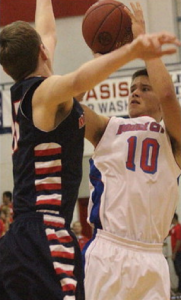 "(Pile) is probably going to be the best big man that we will see all year in my opinion," Dodge City head coach Dennis Hamilton said.

 After Friday's game, the Red Demons will have a quick turnaround when they host Stanton County on Saturday afternoon. Because Saturday's game was a late addition to the schedule, Dodge City will be without two starters against Stanton County.
"It's tough when school is not in session and we're playing a couple games, but it's a chance for our players to get better," Hamilton said.
The Dodge City girls team (2-1) will look to rebound after their first loss of the season when they play Eisenhower. Girl's head coach Kelley Snodgras

s emphasized the importance of the two game stretch before break for the Lady Demons.
"It's huge," Snodgrass said. "We need another road win and then going into Christmas break with two bigs wins would help the momentum to see where we were at. In tournament play you have to play back to back so it's a good test to see where we are at conditioning wise as well."
Eisenhower (2-2) enters Friday's game following a 53-43 loss to Andover Central. The Tigers' other loss this season came against Salina Central back on December 8th.

 "It's a tough team," Snodgrass said. "They're young but they always play hard and they are scrappy on defense.
Tipoff is scheduled for 6 p.m. at Goddard-Eisenhower. The boys game is scheduled for 7:30 p.m.