In complete control
By: John Zetmeir
Dodge City High School and Wichita Southeast were supposed to square off in Wichita on Thursday. Not only did inclement weather postpone the game, the two schools decided to move the location of the game to Dodge City.
The Red Demons looked right at home in the comfort of Memorial Stadium on Friday night as the rolled past the Buffaloes 50-8 to move to 2-0 on the season.
"You get yourself geared up and make that long trip and you're not able to play, everyone was kind of out of it," Dodge City head coach Dave Foster said. "I thought the kids did a great job of gearing themselves towards tonight's game. I really appreciate that (Southeast) was willing to come here."
Dodge City's running game met little resistance from the Southeast defense from the very start. The Red Demons drove the ball 80 yards in just six plays on their first drive.
Junior quarterback Dawson Williams picked up right where he left off in the Red Demons season opener. Williams found his way into the end zone five times on the ground and completed a 41-yard touchdown pass to Tylor Garcia for the final score of the game.
Four of Williams five touchdowns runs were of 10 yards or longer which included 39-yard and 49-yard touchdown runs.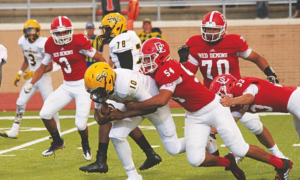 "Our (offensive) line was blocking great, they were clearing big holes for us and on the outside runs they did really well blocking (Southeast) on the inside," Williams said.
After two weeks of being the Red Demons primary ball carrier, Williams said he feels comfortable running the offense. The junior quarterback has eclipsed 100 yards on the ground in both games and has seven rushing touchdowns this season.
"I feel like I can take a hit pretty well," Williams said. "My line blocks really well for me so I don't get hit as much as I probably should."
Along with the offensive production, the Dodge City defense held Southeast to under 100 total yards of total offense. The Buffaloes only touchdown of the evening came with 3.9 seconds left in the game.
"That's probably the most dominant defensive performance I've seen since I've been here," Foster said. "From start to finish. I'm very proud of that group. I feel like that group gives us a chance to compete with anybody."
The Red Demons will be back at Memorial Stadium for the third week in a row next Friday when they host Wichita Heights.
DODGE CITY – 14 22 7 7 – 50
WICHITA SE – 2 0 0 6 – 8
SCORING SUMMARY
1Q
Dodge, Williams 1 run. Kick good. 7-0
SE, safety. 7-2
Dodge, Garcia 2 run. Kick good. 14-2
2Q
Dodge, Williams 39 run. 2-pt good. 22-2
Dodge, Williams 49 run. Kick good. 29-2
Dodge, Williams 10 run. Kick good. 36-2
3Q
Dodge, Williams 23 run. Kick good. 43-2
4Q
Dodge, Williams 41 pass to Garcia. Kick good 50-2
SE, Atkins 19 run. Kick miss. 50-8