Demons hit the road for first Thursday game in school history
By: John Zetmeir
The Dodge City High School football team has two challenges this week.
1. Getting ready for Wichita Southeast on a short schedule.
2. Figuring out how they are going to spend their Friday night.
The Red Demons will travel to Wichita for their second game of the season which will be played on a Thursday night rather than a Friday night. It is the first time in school history that Dodge City will play a Thursday night game.
'It's one less day than your typical routine but essentially we've had three weeks before we played an opponent and now you turn around and play another on short order,' Dodge City head coach Dave Foster said.
While Foster said that there was not a vast difference in his team's practice schedule this week, the Red Demons will have to prepare for a team who will try to throw the ball more than the six pass attempts that they saw from Wichita West in week one.
Junior Tarik Adkins returns to the Buffaloes after completing 41-of-103 pass attempts for 391 yards a year ago.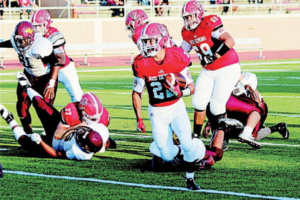 'One thing about Wichita Southeast this year is that you can't say 'that's who we want to isolate,'' Foster said. 'In years past there has been more of that. I'd say this is a very solid team andyear ago most of these guys were underclassmen who are now back playing as seniors.'
Southeast fell to Kapaun Mt. Carmel 27-7 in their first game of the year. Dodge City won last year's meeting 53-12 in their home opener.
The Red Demons (1-0) beat Wichita West 14-7 in their season opener last Friday. Junior quarterback Dawson Williams and senior running back Tylor Garcia combined for 201 yards on 50 carries and two touchdowns.
As the season goes along, the Red Demons may have to find a third ball carrier to help share the workload but for right now, the Dodge City coaches are confident that both Williams and Garcia are capable of handling a bulk of the carries.
'That's what Tylor Garcia was built for, those types of touches and the same with Dawson,' Foster said. 'That's what we knew coming in. We are concerned about those positions cause you always say what if something happens to those guys.'
Seniors Kenedy Escobedo, Carlos Rojas and sophomore Jaiel Johnson could all be in the mix to get more carries as the season goes along.
Kickoff between the Red Demons and Buffaloes is scheduled for 7 p.m. at Wichita Heights.