Dodge City falls to Washburn Rural 27-15 in playoffs
By: John Zetmeir
The Dodge City High School football team dug themselves a 17-point hole that they nearly climbed out of against Washburn Rural on Friday night in the first round of the 6A state playoffs.
After trailing 20-3 at halftime, the Red Demons were just 2 yards away from taking a 21-20 lead with 11 minutes to play in the game. However, Dodge City turned the ball over on the goal line. Washburn Rural answered with a 98-yard touchdown drive to go up 27-15.
That was the final score as Dodge City (5-4) fell to Washburn Rural (6-3) in their final game of the season.
Dodge City junior Dawson Williams sparked the comeback with a 78-yard touchdown run on the first play of the second half. Senior linebacker Carlos Rojas sacked Washburn Rural quarterback Jordan White and forced a fumble that gave the Red Demons the ball back inside of the Blues' 20-yard line.
Williams scored his second touchdown of the day with 8:57 remaining in the third quarter to bring the Red Demons back to within 5 points.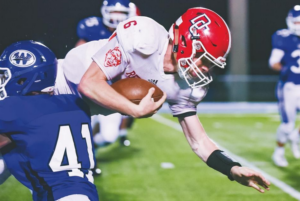 Both Williams and senior running back Tylor Garcia eclipsed the 100-yard mark on the ground on Friday night. Williams finished the season with 25 rushing touchdowns, just one shy of tying the school-record.
Big plays plagued Dodge City in the first half. White gave the Blues an early lead with a 67-yard touchdown run with 7:05 to play in the first quarter. Washburn Rural's second touchdown came on another big play when running back Hunter Browning found the end zone from 48 yards out. A fumble on a punt late in the second quarter set the Blues up for their third touchdown of the first half to give them a 20-3 lead.
Dodge City – 3 0 12 0 – 15
Washburn Rural – 6 14 0 7 – 27
1Q
Rural, White 67 run. Kick fail. 6-0 Dodge, Fernandez 32 kick. 6-3 2Q
Rural, Browning 49 run. Kick good. 13-3 Rural, White 3 run. Kick good. 20-3.
3Q
Dodge, Williams 78 run. Kick fail. 20-9. Dodge, Williams 6 run. Kick fail. 20-15 4Q
Rural, Browning 1 run. Kick good. 27-15