The Dodge City Red Demons did not look intimidated by the undefeated Great Bend Panthers in their first road game of the season.
After facing an early 14-3 deficit, the Red Demons scored 21 unanswered points to take a 24-14 lead early in the third quarter. Junior quarterback Dawson Williams sparked the Red Demon offense with a 75 yard touchdown run in the second quarter.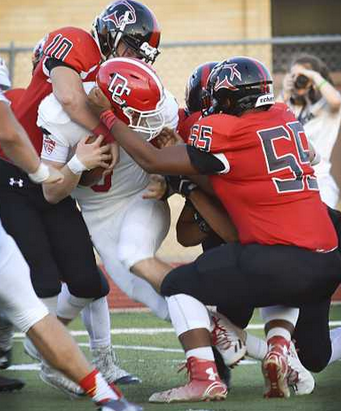 Williams third touchdown run of the day gave Dodge City a 24-14 lead but that was as close as the Red Demons would get to escaping with a win. Great Bend scored 20 unanswered points to take control to top the Red Demons 34-27.
"I was very proud of our football team," Dodge City head football coach Dave Foster said in a post  game interview. "I think we are squeezing as hard as we can. The kids did a great job with the adjustments that we put in. The bottom line, (Great Bend) had too many weapons."
Great Bend senior quarterback Jacob Murray accounted for all five of the Panthers touchdowns on Friday night with three rushing and two passing scores.
Williams scored all three of Dodge City's touchdowns while junior kicked Carlos Fernandez added two field goals.
The Red Demons (2-2, 0-1) will return home next Friday to host Wichita South.
By John Zetmeir, Dodge City Daily Globe