Demon baseball falls to Liberal in error-filled game
By: Timothy Everson
It was a wet, cool and frustrating evening for Dodge City High School baseball coach Zach Shipley and his team as they fell to Liberal 11-2 on Tuesday.
The Red Demons struggled in all aspects of the game, as they move to 7-4 and 1-2 in conference play.
Senior starter Lucas Hefner had a rough start, giving up nine runs on six hits in just three innings pitched. With that though, it wasn't Hefner's pitching that upset Shipley. It was the six errors, five of them coming in that three-inning stretch, committed by the Dodge City defense.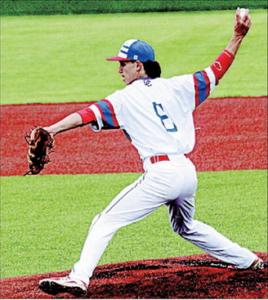 "You know I was pretty happy with what Lucas did," Shipley said. "He went out and did what he was supposed to, we're not looking to strike anyone out here. My disappointment is that it gets put in play and you give up six errors. You come out flat, not ready to play and you get your butt kicked."
The Red Demons limited Liberal to just two runs in the first inning but it would be the second where things would begin to get out of hand as senior pitcher Cole Evans blasted his second home run of the game over the centerfield fence, scoring three runs to take a 5-0 run.
While Evans was impressive at the plate, he was even more so on the mound, only seeing 10 batters in the first three innings and finishing the day with two runs allowed on five hits.
"The kid's talented," Shipley said. "And he looks really good when you don't put together good at-bats. I don't know if he threw a breaking ball until the fifth inning
because he didn't have to. I think we hit three baseballs hard in seven innings."
Two straight errors in the third after Dodge City recorded their first out led to four more runs in the third and another error in the fourth led to another two Liberal runs as the Red Demons went into the bottom of the fourth down 11-0.
"We take away those six errors and we're right there in the middle of the game," Shipley said. "All of the sudden it's a little bit easier to get pumped up for an at-bat but an 11-2 ballgame, it's just frustrating."
In addition to the errors, Shipley has harped all season about his team getting their bats going earlier in games. The harping would continue after this one because going into the bottom of the fourth, Dodge City would only have two base runners and only one of them was a hit.
"It's a broken record," Shipley said. "We've talked about it non-stop. It's frustrating. You don't want to beat a dead horse but, unfortunately, when it's the same thing over and over that's what it is."
Dodge City plated two runs in the bottom of the fourth as seniors Ryan Armstrong and Rylan Allen were able to drive in runs to cut the Liberal lead to 9 and avoid the run-rule.
Sophomore Noah Sowers had one of his team-leading three hits in that fourth inning.
The Red Demons would get just one more base runner for the rest of the game, a two-out walk that soon led to an inning-ending steal attempt.
Shipley hopes that his team can regroup some over the next couple days before diving into more WAC action with a doubleheader versus Hays of Friday up next for the Red Demons.
"We've got two days," Shipley said. "Give me two days of great practice and taking a step forward. I'm not looking for them to make leaps and bounds in the next two practices but they must make a conscience effort to get better. I just would like to see seven innings of hard baseball. If we get beat, we get beat."