Holding on for history
By John Zetmeir
Dodge City Daily Globe
The Dodge City High School wrestling team knew what was on the line going into Thursday night's dual against Liberal.
After taking a 34-12 lead, the Red Demons' first ever Western Athletic Conference wrestling championship seemed to be in the fold. However, the Redskins refused to go down without a fight.
Liberal won the last five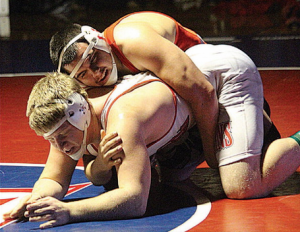 matches to make it close but in the final match of the evening, senior Cole Trent avoided a pin and Dodge City avoided the letdown. The Red Demons won their first WAC title by beating Liberal 34-31.
"I told myself that no matter the situation that I wanted to win for the team," Trent said. "Whether I lose on the mat or win on the mat, I needed to secure the win tonight."
The Redskins had two quick pins that put them up 12-3 after the first three matches. Dodge City responded with three straight pins from freshmen Joel Ostrom, Couy Weil and sophomore Devon Griego.
Major decisions from junior Juan Chavez and senior Clay Weil were followed up by a pin from junior Tylor Garcia to put the dual out of reach for the Redskins.
"I felt like we wrestled hard and we did some really good things," Dodge City head coach Lars Lueders said. "It was just frustrating at times with us being up big and then being pinned in the third period. That's uncharacteristic of us. That's frustrating but at the same point we wrestled well besides those three pins that never should've happened."
In the second match of the evening, senior Zerek Rodriguez finished with what proved to be three big points for the Red Demons. Rodriguez trailed 1-0 going into the third period before a takedown with just over a minute to go in the match gave him the 2-1 win.
"He's a very mentally tough kid," Lueders said. "He wrestles hard for six minutes."
Five seniors wrestled in their final varsity home dual on Thursday night. The conference championship acknowledges how the senior class has help shape the imagine of Red Demon wrestling.
While they hope it is a gateway to more success in the future, the message that the current seniors what future Red Demon wrestlers to know is what it means to represent the school on the mat.
"I don't want to say that we are setting a bar because that puts pressure on teams," Trent said. "I think that everyone just needs to go in and learn how to be a Demon wrestler. That's someone that's going to go in there and fight with his brothers, because that's what we are. We're a family."
Thursday night was the seniors last time wrestling in a dual-meet at home but they will wrestle in Dodge City one final time when the Red Demons host the regional tournament next Saturday.