DCHS Boys Swimming Dodge City welcomes boys swimming
By: John Zetmeir
Kaitlyn Paul was excited about the turnout for the first week of practice for the new Dodge City High School boys swimming team.
Paul, the Red Demons' head coach, said that there were more than 20 students that came out to become part of the first ever boys swimming team in school history. That would give the Red Demons nearly a full varsity roster.
"I'm still getting to know a lot of them," Paul said. "The ones that have been interested from the beginning, since I started recruiting, have been a lot of the upperclassmen. They have been the ones who have really pushed and brought in more of the underclassmen who were unsure. We're starting to get a nice mix."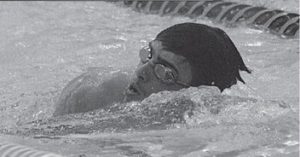 The Dodge City High School athletic department decided to incorporate boys swimming after a petition was signed by more than 20 students who expressed interest in having a program.
"From day one when we started swimming, you wouldn't have known that these guys started two days ago," Paul said during the team's third day of practice. "They've improved so much in two days and I'm excited to see where we go the rest of the season and where we get to."
The Red Demons become the third team in the Western Athletic Conference to add a boys swimming team. Paul says that one of the team's main goals is to be competitive when they travel to Hays on Feb. 9 for the WAC championship meet.
"My biggest goal overall is to see the team improve overall from day one to the end," Paul said. "Realistically, our biggest challenge is going to be going up against teams that have established programs and know what things look like."
The Red Demons will begin their season on Nov. 29 when they travel to Newton.