DCHS Boys Basketball Red Demons face unknowns in 2016-17
By: John Zetmeir
Dennis Hamilton has coached many different types of teams during his 27-year tenure as the Dodge City High School boys head basketball coach.
During the first week of this year's team practice, he acknowledged that the turnaround from last year is one of the greatest that he has had as the head coach of the Red Demons.
With all five starters and the team's sixth man graduating from last year's team that earned a trip to the 6A state tournament, there are plenty of unknowns going into the season.
"It's a very seasoned (junior varsity) team that we're going to put out there and we're going to get better from day one to day two, from game one to game two," Hamilton said. "It should be interesting."
There are just three returners who took more than 10 varsity shots last season. Senior Chris Baker leads the group in varsity experience. Baker started three games for the Red Demons last season.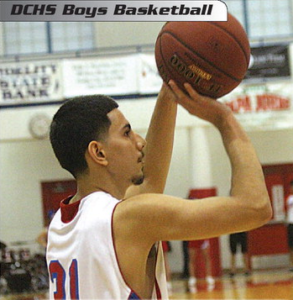 Senior Justin Schowengardt and junior Hunter Heath also saw the floor regularly for the Red Demons last season.
"We've got to prove ourselves," Hamilton said. "There is nobody that is a proven varsity starter. We have some kids with experience and that will help. Chris Baker, Justin Schowengardt and Hunter Heath have experience from last year. They understand what the varsity game is about. Now they get to be a prime time player in it."
Along with the trio of returners, seniors Thomas Sanchez, Sam Unruh, Dawson Williams and juniors Luke Gleason and Kaden Riekenberg will also be in the mix for Dodge City this year.
"Between now and the start of the season when we get on the bus and head to Junction City, I could give five names right now and it could be three or four different names within a two week period," Hamilton said.
Dodge City will hold its annual Tournament of Champions from Jan. 19 to Jan. 21. at the United Wireless Arena. Other teams that will make up this year's TOC field include Derby, Bishop Carroll and Holcomb.