The Dodge City Red Demon boys soccer team took a break from their Western Athletic Conference schedule on Thursday to host one of the top teams in the 4A rankings, McPherson.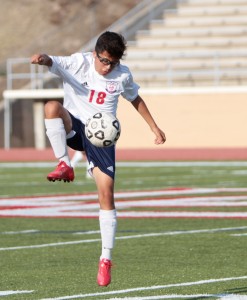 It was another dominant performance from the Red Demons as they beat the Bullpups 6-0. The season trend for Dodge City this year has been to use strong second half performances to pull away from their opposition. On Thursday, they scored five of their six goals in the first half.
"The boys wanted to make a statement from last game," head coach Saul Hernandez said. "They showed me that they can do it. They learned from last game and I'm happy that they hit their stride in the first half."
Junior Rafael Yeverino scored first for the Red Demons before a penalty kick from Francisco Cayetano put Dodge City up 2-0. Sophomore Mario Martinez continued to show his importance to the squad with two goals in the first half.
McPherson battled in the second half to keep it closer. With only four regular season games remaining, Hernandez is happy with the current form of his squad.