By John Zetmeir
Dodge City Daily Globe
After scoring an early goal, the Dodge City High School girls soccer team struggled to create many chances on Tuesday against Hays.
The Red Demons went over 80 minutes between goals but an overtime winner from Liliana Vasquez gave Dodge City the 2-1 win.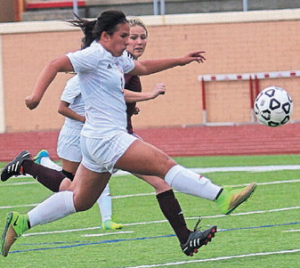 Mariyah Reyes scored her fifth goal of the season when she caught Hays' goalkeeper Taylor Groen-Younger off of her line and chipped the ball over the senior in the fifth minute.
Hays answered with a goal of its own in the 25th minute that leveled the score.
"After that first goal Hays started out-hustling us," Dodge City head coach Saul Hernandez said. "We took our foot off of the pedal and that's where the momentum changed. We didn't play as intense as we did at the start of the game."
While the Red Demons struggled at times on Tuesday afternoon, the overtime win was one that Hernandez believes will give his team confidence going forward.
Dodge City (3-2, 2-0) also moved one game closer to its goal of winning a Western Athletic Conference championship.
"I told the girls before the game started that if we won this game it would give us a big jump in WAC play and that it would be a step closer to our goal," Hernandez said. "I think it motivated them because last year they lost (the WAC championship) in the last two games of the season. I think the girls are really hungry to get the conference title this year."
The Red Demons will host Hays-Thomas More Prep on Thursday at Memorial Stadium.